[ad_1]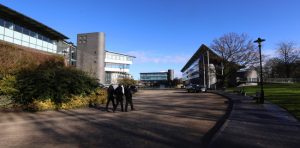 "Several manufacturers are already testing their vehicles on public roads, with mixed results," said the University. "One of the problems is the volume and repeatability of testing. Carrying out such testing on controlled tracks or on-road presents significant cost and safety challenges, as well as requiring huge amounts of mileage to be driven to gather evidence."
Warwick's 'WMG' lab will work Thales and Thales subsidiary XPI.
"We believe that simulation technology similar to that used to train motorsport drivers, could be used to test every function and response of self-driving vehicles under all conceivable conditions," said the University. "If successful, it would be an important step towards gathering sufficient data to certify autonomous cars as safe to share the roads with ordinary traffic."
A key challenge with creating such a simulator would be ensuring that it represented the real world with a suitable level of accuracy. According to the University, this is a similar to civil flight simulators, which are certified before they can be used for formal pilot training.
XPI, WMG and Thales will work to develop an understanding of the requirements of such a simulator, potentially allowing common standards to be developed that enable the use of such software for autonomous vehicle certification.
"The introduction of safe, fully autonomous vehicles will bring enormous societal benefits and substantial economic opportunities. Partnerships between academia and industry, supported by the government, are the best way to overcome the many challenges ahead," said Professor Paul Jennings of WMG.
Warwick highlights several applications for autonomous vehicles, ranging through convenience (automated off-site car parking where the car parks itself and comes back when needed) efficiency (self-driving buses, taxis and lorries, operating 24/7) and life-saving (self-driving vehicles which can cope with extreme weather conditions).
WMG (pictured) is a research, education and academic department of the University of Warwick, established by Professor Lord Kumar Bhattacharyya in 1980 in order to reinvigorate UK manufacturing through research and knowledge transfer.
[ad_2]

Source link