[ad_1]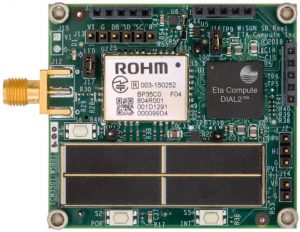 Wi-SUN is based on IEEE 802.15.4g and backed by the Wi-SUN Alliance.
"Our partnership with Rohm gives our customers access to leading sensor technology combined with the industry's lowest power microprocessor technology," claimed Eta founder Paul Washkewicz. "By focusing on Wi-SUN compatibility, we are providing essential components for large-scale outdoor networking required for smart cities and a diverse range of applications in an intelligent loT."
The design aim is for frequent low-latency communication, drawing <1μA when resting and 1mA while sensing.
According to Rohm, Eta's intellectual property, dubbed EtaCore, can keep signal processing local to the node by performing sensor fusion at low power.
Eta Compute and Rohm exhibited at Sensors Expo in San Jose this week, and demonstrated their 'energy harvesting sensor evaluation board' as well as Rohm's BP35C0 WI-SUN module , BM1383AGLV pressure sensor, BD1020HFV temperature sensor and BH1792GLC optical heatrate sensor.
[ad_2]

Source link