[ad_1]

Wireless charging points for mobile phones are starting to appear in some McDonald's and Starbucks stores, and wireless charging for consumer phones is expected to increase dramatically in the next year.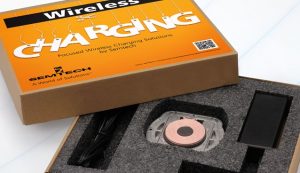 "McDonald's, Starbucks, Marriott and Hilton already offer wireless charging in some locations, and further penetration of the technology in more public areas will intensify growth in the public infrastructure segment of the market," said David Green, a wireless power analyst at IHS Technology.
An example of the powder semiconductor technology behind this is Semtech's wireless charging system called LinkCharge CT.
This is a 15W medium power system that can be used with todays 'fast charging' handsets. It is compliant with the two principal wireless charging industry standards, Wireless Power Consortium and AirFuel Alliance.
Rwanda Dassanayake from Semtech's power product group, says that the key to adoption is to make wireless charging nodes easy to install and deploy "without making a significant upfront investment, overcoming the common deployment concerns".
A medium power 15W wireless charging system can be mounted underneath the surface of existing non-metallic tables and counter tops. The wireless charging signal can penetrate up to 10mm of material to transmit power between the charger and the receiver.
The availability of pre-certified technology is also important.
[ad_2]

Source link