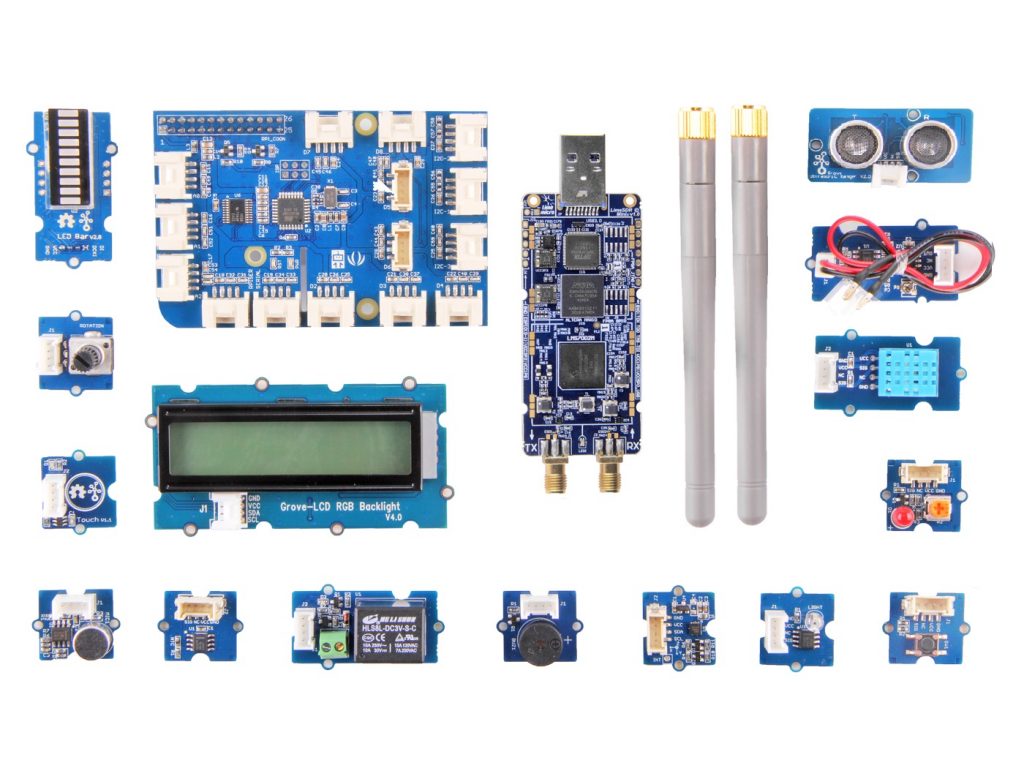 Maybe you need to detect fainter transmissions, avoiding interference, I don't know… It seems esoteric to me. You'll need to know exactly what you are doing with the comms.
It comes from Lime Microsystems, in partnership with Seeed Studio, for the LimeSDR platform.
Grove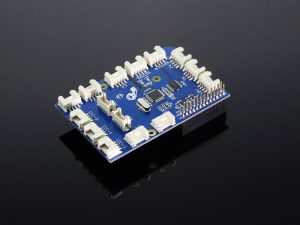 Based around the Grove Platform (a modular, connector prototyping system), the Grove Starter Kit includes a LimeSDR Mini with antennas optimised for 433/868/915 MHz unlicensed bands and a GrovePi+ (an add-on board with 15 Grove 4-pin interfaces that brings Grove sensors to the Raspberry Pi, pictured, right).
There's also a range of Grove sensors and outputs, many of which are supported by a Scratch extension.
According to Lime, the kit provides "everything you need to get started learning SDR basics and developing IoT applications and is targeted at educational use and for beginners."
The kit is priced at $249 (£180 / €200) and note that it doesn't include a Raspberry Pi itself, or power supply and Micro SD card.
Contents
It includes:
• 1 x LimeSDR Mini
• 2 x Antenna for 433/868/915MHz unlicensed bands
• 1 x GrovePi+
• 1 x Grove – Ultrasonic Ranger
• 1 x Grove – Temp & Humi Sensor
• 1 x Grove – Temperature Sensor
• 1 x Grove – Rotary Angle Sensor
• 1 x Grove – Button
• 1 x Grove – Light Sensor v1.2
• 1 x Grove – 3-Axis Digital Accelerometer (±1.5 g)
• 1 x Grove – Relay
• 1 x Grove – Sound Sensor
• 1 x Grove – LCD RGB Backlight
• 1 x Grove – Buzzer
• 1 x Grove – Red LED
• 1 x Grove – LED Bar 2.0
• 1 x Grove – Touch Sensor
• 1 x Grove – Piezo Vibration Sensor
• 1 x Acrylic base plate
• 1 x Short USB extension
A Raspberry Pi 2, 3 or Zero can be used.
How do you order? Lime is taking pre-orders for the Grove Starter Kit via its distribution partner Crowd Supply.
Learn SDR
"We are excited to announce that we've partnered with Lime Microsystems to develop the Grove Starter Kit for LimeSDR Mini," Eric Pan, CEO of Seeed. "It will provide a great platform for users to learn about SDR and help kick off IoT projects with the LimeSDR Mini. We cannot wait to see what the community will do with this new kit!"
For it's part, Lima adds:
"One of the key reasons we created the LimeSDR was to open access to this technology to as many people as possible," said Ebrahim Bushehri, CEO of Lime. "This kit plays a big part in enabling this."

"Of course, the kit is not limited to Scratch and educational environments, so we'll also be putting together examples that demonstrate how the kit can be used to develop applications that integrate with existing off-the-shelf systems, such as wireless thermostats and remote controls."