[ad_1]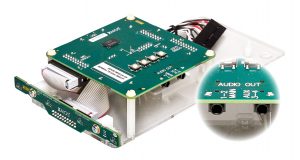 The distributor specialises in consumer electronics including smart speakers, TV and TV accessories.
According to XMOS, the partnership underlines the increase in demand for voice-activated control of electronic devices, and brings together the former's far-field voice interfaces with Weikeng's distribution reach for the connected home market.
Stan Chi, president and COO at Weikeng said: "Voice user interface (VUI) is becoming mainstream in key market segments including consumer electronics, commercial conferencing, and emerging automotive applications".
XMOS' VocalFusion portfolio uses cloud-based speech recognition system or local application processor in circular microphone arrays for smart speakers and "centre of room" implementations, linear microphone arrays for "edge of room" devices with stereo-AEC kits for smart TVs, soundbars, set-top boxes and digital media adapters and mono-AEC kits for smart home devices such control panels and washing machines.
[ad_2]

Source link