[ad_1]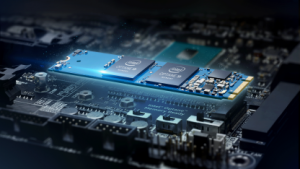 The first product is a 375GB SSD.
In Q2 a 750GB SSD is planned and a 1.5TB SSD is scheduled for H2.
Micron, the co-owner of the fab line in Utah where the chips are made, and co-developer of 3D XPoint technology, is not announcing a product but may have a 3D XPoint SSD called Quantx later in the year.
3D XPoint was announced in July 2015 since when the claims for its performance have varied.
Originally, Intel said it was 1000x faster than NAND, 1000x the endurance of NAND, and 10x denser than DRAM.
Since then, the density figure vis a vis DRAM has been dropped from 10x to 4x, the 1000x faster-than-NAND figure has been reduced to 100x, and the 1000x better endurance than NAND has shrunk to 3x.
Intel has come up with some new test metrics for performance of its SSD. One is: 'Average Read Latency under RandomWrite Workload'. Another is: 'Responsiveness under load.'
Under these performance criteria, 3D XPoint SSDs perform very well compared to NAND SSDs, says Intel.
[ad_2]

Source link