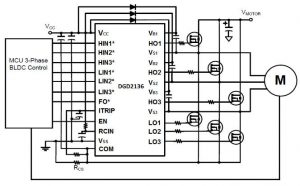 Intended for brush-less DC and permanent magnet synchronous motor driving, found in household appliances, power tools, garden tools, air conditioners, sewing machines, and industrial motors.
"The increased use of BLDC and PMSM motors reflects industry directives to improve the efficiency of electrical motors and achieve the goal of zero maintenance in order to minimise the total cost of ownership," claimed the firm.
The on-chip output buffers make up to 200mA source and 350mA sink available to the gates of the switching transistors.
To prevent top and bottom transistors in a bridge section causing a short-circuit by conducting at the same, there is both an internal 290ns dead-time and Cross-conduction prevention logic, as well as matched propagation delay on all channels.
Over-current is sensed via an external resistor and internal circuit to turn off all outputs, and supply under-voltage lock-out shuts down the respective high side output.
Built-in suppression of high dv/dt transients minimises false trigger risk.
It comes in an SO-28 and works over -40°C to 125°C.