[ad_1]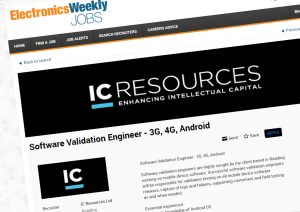 Specifically, here is a sample of the Android-related positions currently available on the ElectronicsWeekly.com Jobs service.
My eye was caught today, for example, by this position: "Software Validation Engineer – 3G, 4G, Android".
It is advertised via IC Software (location – Reading; salary – Negotiable):
Successful software validation engineers will be responsible for validation testing on all mobile device software releases, capture of logs and failures, supporting customers and field testing as and when needed.
Essential experience required includes: in-depth knowledge of Android OS; ADB (Android Debug Bridge); Python, Perl or Ruby scripting; Strong knowledge of 2G, 3G and 4G/LTE protocols.
Software Engineer
Or there is a "Software Engineer – Android, Java, C". It is advertised via IC Software ("£40,000 – £55,000 per annum"):
A very exciting opportunity to join this leading consumer electronics company based at their European R+D Centre in West London.

You will be working on next generation and emerging technology software projects that will be used in millions of devices worldwide on a daily basis. You will be part of a team developing Android Application Framework Layer software in Java and C.
Embedded Software Test Engineer
Or a "Embedded Software Test Engineer" based in Cambridge ("£38,000 – £40,000 per annum + excellent benefits").
With a required knowledge of Android or Linux, the job description reads:
You will be working on the test automation infrastructure, developing scripts from scratch and producing detailed bug reports. This is an excellent opportunity for someone who is passionate about high quality software and would like to work on the latest cutting edge technology with a company that pride themselves on supporting and training every member of their team, to help you progress your career.
Embedded C++
There is also a "Senior Software Engineer – Embedded C++" based in West London ("£45,000 – £62,000 per annum"):
World leading consumer electronics developer urgently seeks Senior Software Engineers to be based at their R+D Centre in West London. Working as part of a team you will be developing embedded C++ based software for emerging Linux and Android based mobile device applications.

You will have achieved a good technical degree (Computer Science, Software, Mathematics etc.) and have extensive post graduate C and C++ development gained in an embedded real time environment. Ideally you will be familiar with Linux and Android, embedded software and some exposure to build scripts and tools.
Check out all the Android jobs currently on the ElectronicsWeekly.com Jobs service »
[ad_2]

Source link