[ad_1]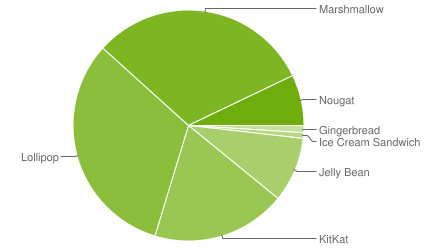 As always, the report is based on active devices interacting with Google Play over the period of a week.
There are no major developments to report. The main takeaway is the continued progress of Nougat (Android version 7.x) after its long delay in even registering on the radar.
For May's totals, the takeup has doubled from 4.5% share to 6.6%. And make that 7.1% if you add in the very latest version, 7.1.
(It would be facetious to point out – but of course, I will – that Gingerbread's share (antique Android, version 2.3.3) grew from 0.9% to 1.0%! But let's ignore that.)
See Google's developers dashboard for the full latest stats. ("Data collected during a 7-day period ending on May 2, 2017. Any versions with less than 0.1% distribution are not shown")
Monthly comparison
Here are the detailed Android platform share figures, with comparison to the previous month for some context…
2.3 – 2.3.2 Gingerbread – disappeared
2.3.3 – 2.3.7 – (was 0.9%) – 1.0%
3.2 Honeycomb – disappeared
4.0.3 – 4.0.4 Ice Cream Sandwich – (was 0.9%) – 0.8%
4.1 Jelly Bean – (was 3.5%) – 3.2%
4.2 Jelly Bean – (was 5.1%) – 4.6%
4.3 Jelly Bean – (was 1.5%) – 1.3%
4.4 KitKat – (was 20.0%) – 18.8%
5.0 Lollipop – (was 9.0%) – 8.7%
5.1 Lollipop – (was 23.0%) – 23.3%
6.0 Marshmallow – (unchanged) – 31.2%
7.0 Nougat – (was 4.5%) – 6.6%
7.1 Nougat – (was 0.4%) – 0.5%
See the full stats at developer.android.com/about/dashboards/index.html
[ad_2]

Source link