[ad_1]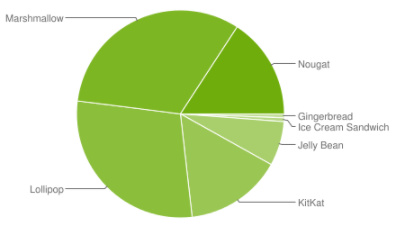 As always, the stats are based on active devices interacting with Google Play over the period of a week.
The latest version of Android, 7.x codenamed "Nougat", is advancing. In July it registered just 11.5% of active users, and in the last month it has reached 15.8% (up from 13.5% last month).
I imagine, however, that Google won't be pleased that it is the older version 7.0 that is increasing, not the updated 7.1…
The only other points to note are the relatively stubborn persistence of Marshmallow – down just 0.2% this month – and the slight erosion of the almost irreducible core of Gingerbread 2.3, from 2011, finally declining slightly from its long held 0.7% base.
See Google's developers dashboard for the full latest stats. ("Data collected during a 7-day period ending on September 11, 2017. Any versions with less than 0.1% distribution are not shown")
Monthly comparison
Here are the detailed Android platform share figures, with comparison to the previous month for some context…
2.3 – 2.3.2 Gingerbread – disappeared
2.3.3 – 2.3.7 – (was 0.7%) – 0.6%
3.2 Honeycomb – disappeared
4.0.3 – 4.0.4 Ice Cream Sandwich – (was 0.7%) – 0.6%
4.1 Jelly Bean – (was 2.7%) – 2.4%
4.2 Jelly Bean – (was 3.8%) – 3.5%
4.3 Jelly Bean – (was 1.1%) – 1.0%
4.4 KitKat – (was 16.0%) – 15.1%
5.0 Lollipop – (was 7.4%) – 7.1%
5.1 Lollipop – (was 21.8%) – 21.7%
6.0 Marshmallow – (was 32.3%) – 32.2%
7.0 Nougat – (was 12.3%) – 14.2%
7.1 Nougat – (was 1.2%) – 1.6%
See the full stats at developer.android.com/about/dashboards/index.html
[ad_2]

Source link