[ad_1]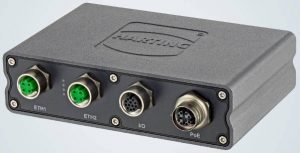 "MICA's modular open-source software makes it the ideal solution for developing edge and cloud applications in production," claimed the firm. "Creating the EtherCat functionality as an internal function module enables MICA to deliver benefits such as protection class IP67, connectors suitable for industrial use and compliance with major industry standards."
Inside the box are a 1GHz ARM processor running Linux , 1Gbyte of ram, a 4Gbyte eMMC memory and up to 128Gbyte of flash via a Micro SD Card.
The enclosure measures 132 x 86 x 35mm plus plugs, and there is a DIN rail mount option.
EtherCat is real-time industrial Ethernet originally developed by Beckhoff Automation, with the main development focus, according to Harting, on short cycle times – not greater than 100µs, low jitter – not greater than 1µs – for accurate synchronisation and low hardware costs.
Disclosed in the IEC standard IEC61158, the protocol is suitable for hard and soft real-time requirements in automation technology, in test and measurement and many other applications.
"With the EtherCat interface, MICA can capture directly from industrial production networks via two M8 connectors, then pre-process it and transmit it to higher-level systems and cloud applications via various standard protocols such as OPC-UA and MQTT," said the firm. Note – the data sheet says 2x 12mm EtherCat ports.
[ad_2]

Source link