[ad_1]


Called ARM Mali-C71, it is the first product resulting from ARM's purchase of Loughborough-based Apical last year.
It is a software-controlled hardware block offering 1.2Gpixel/s of processing.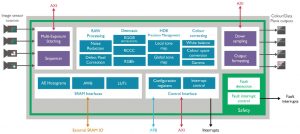 The hardware interfaces with up to four cameras, producing processed image bit streams that can then be used to drive a display – an electronic rear view mirror for example – or the bit stream can be fed into artificial intelligence for activities such as object recognition, motion estimation and sensor fusion.
For extracting image detail under high-contrast conditions, wide dynamic range (24 stops = 224 = 144dB) processing operation is implemented.
This requires multiple exposures (it works with 1, 2, 3 or 4) from the image sensor, each at a different exposure setting. Motion between exposures due to vehicle speed is accounted for in the processing.
After multiple image processing, the wide dynamic range result can be compressed to 14, 12, 10 or 8bits. Two simultaneous compression channels are provided, ARM spokesman Richard York told Electronics Weekly, one for human vision via a display, and one for machine vision algorithms.
Cameras with several pixel types can be accommodated. These include: RGGB, RGB(IR), RCCC (where C=clear) and RCCG.
With automotive use in mind, the image processor is design for functional safety – with ASIL D / ISO 26262 and SIL3 / IEC 61508 compliance.
Included are >300 fault detection circuits, built-in self-test, cyclic redundancy checking on data paths and every pixel is tagged for reliability, said ARM.
Support includes reference software to control the ISP, sensor, auto-white-balance and auto-exposure, a roadmap to automotive software designed for ASIL compliance, a set of tuning and calibration tools, and an ecosystem to support tuning and bringing up specific use cases and sensors.
Mali-C71 intellectual property is expected to occupy ~2mm2 on SoCs, and "a small handful" of customers have already designed-in, said Young, including one that has silicon back from the fab.
[ad_2]

Source link