[ad_1]

These are small footprint cores with similar performance to the existing Cortex-M3/M4 processors.
ARM Cortex-M23 and Cortex-M33 are the first embedded processors based on the ARMv8-M architecture, bringing ARM TrustZone to the most constrained IoT nodes.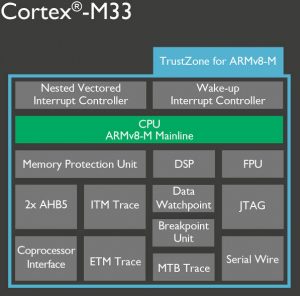 Cortex-M33 features configuration options including a co-processor interface, DSP and floating point computation.
Cortex-M23 is the entry point to the ARMv8-M based processor family, approximately one third of the size of Cortex-M33 processor with more than twice its energy efficiency, according to ARM.
It is a two-stage pipelined processor that supports the full ARMv8-M baseline instruction set and is upward code compatible to the Cortex-M33 as well as being compatible with other processors in the Cortex-M family.
Barry Lock, UK manager at Lauterbach, writes:
"Our TRACE32 tools fully support these new cores, which includes support for the ARM TrustZone mechanism, enabling the developer to have full visibility and control during the development process."
For customers who already have Lauterbach debug tools for Cortex-M processor core development, a software update will enable access to these new device types.
[ad_2]

Source link