[ad_1]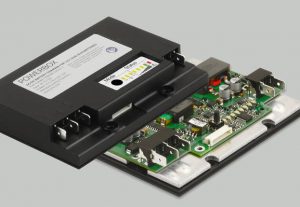 Called ENA200, the chargers are small (116 x 88 x 18mm), efficienct (>95%) and include a microcontroller with switch-selectable charging algorithms for standard Pb-acid batteries as well as absorbed glass matte (AGM), gel cell and calcium types – plus application-defined profiles can be uploaded from Powerbox to meet specific need.
"Designers often face challenges when developing systems requiring autonomous equipment powered by local batteries, in the selection of battery technology but also in the type of charger," said Powerbox. "They are concerned by the size of the battery charger, which nowadays is often integrated into a much smaller envelope."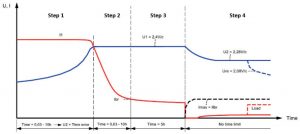 Charging type is five- step ('IUIU + pulse', see diag), and load temperature monitoring as well as intelligent spark control is included.
Charging for standard Pb-acid. Gel, AGM and calcium are different.
The two types cover nominal 12V (9-18V) and nominal 24V (18-32V) inputs, and both charge 12V batteries at up to 15A (216W max).  No-load input current is <100mA, and <1mA in stand-by.
Protection includes Input/output/case galvanic isolation at 500Vdc, 2kV input surge, over-temperature, short-circuit and reverse-voltage. By default (but re-programmable) the charger will not start if the battery is below 5V.
Four LED's indicate charge state, and another indicates faults.
Applications are expected in busses (backing-up in-seat infotainment), mining machinery (local back-up), forestry, fork-lifts, trucks and within shipping containers (GPS geo-location).
"The principle is to have the possibility to charge auxiliary batteries from local DC voltages used within industrial equipment," company marketing director Patrick Le Fèvre told Electronics Weekly. "In those equipment the batteries are powering a lot of electronics, which explains the high charging capacity. Depending on the applications, some batteries are charged weekly when some others, in containers for example, are charged when at dock."
[ad_2]

Source link