[ad_1]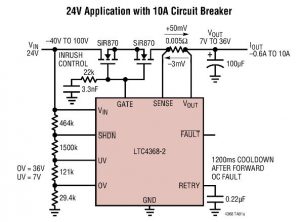 Called LTC4368, it is intended to replace fuses, transient voltage suppressors and discrete circuitry – although it does need a couple of external n-channel mosfets – in automotive, industrial and portable systems.
Operating from +2.5 to +60V, and protecting against -40V to 100V, it comes in two versions: the symetrical LTC4368-1 has the same forward and reverse current thresholds, allowing current to flow from load to supply; while the asymmetric LTC4368-2 trips at a far lower value in the reverse direction, prevent al but minimal back-feed from load to supply.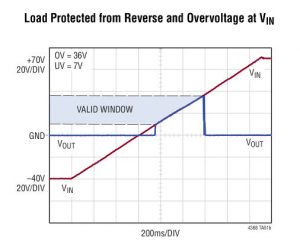 Trip thresholds are either 50mV across the single sense resistor in both directions or 50mV forward and 3mV reverse.
Adjustable under-voltage lock-out disables operation for low input voltages, avoiding deeply discharging supply batteries.
As the back-to-back mosfet pair replaces traditional reverse polarity and reverse current protection "the eliminated diode drop and the 2.5V operation provide sufficient margin for riding through automotive cold crank conditions", said Linear.
Normal consumption is 80µA, or 5µA when shut down.
The chip also controls inrush current for hot-plugging a circuit board's power supply.
After an over-current fault, a configuration pin tells the chip how to behave: latch the mosfets off or turn them back on after a delay.
Options are 0 to 70°C (commercial), -40 to 85°C (industrial) or -40 to 125°C (automotive); and 10pin MSOP or 3 x 3mm DFN.
LTC4368 at a glance
Over-current protection
Reverse current protection
Reverse input voltage protection
Adjustable (±1.5% accurate) under-voltage and over-voltage thresholds
2.5V to 60V Operating Range
−40V to 100V Protection Range
50mV Forward Sense Threshold
50mV Reverse Sense Threshold (LTC4368-1)
3mV Reverse Sense Threshold (LTC4368-2)
80µA operating, 5µA shut down
Auto-retry timer or latch off
Hot swappable
–40C to 125°C operation
10pin MSOP, 3 x 3mm DFN package
[ad_2]

Source link