[ad_1]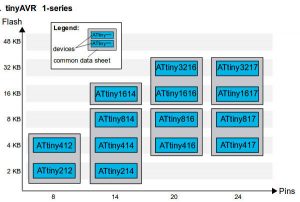 Called ATtiny3217, the 24pin 4 x 4mm QFN chip runs up to 20MHz. There is also a 20pin version, the ATtiny3216.
Alongside the flash, which is that largest yet in an ATtiny, is 256byte of eeprom and 2kbyte of ram.
On the analogue side, with the two ADCs and three DACs, are three analogue comparators and five selectable internal voltage references: 0.55V, 1.1V, 1.5V, 2.5V, and 4.3V.
"Designed for reliable operation in harsh environments, the ATtiny3217 and ATtiny3216 offer built-in safety functions to help designers to create robust and safe systems," said the firm.
Timing peripherals include:
One 16bit timer/counter with dedicated period register, three compare channels
Two 16bit timer/counters with input capture
One 12bit timer/counter optimised for LED, motor control, H-bridge, and power converters.
One 16bit real-time counter running from an external crystal, external clock, or internal RC
oscillator
Then there are the serial comms peripherals: a USART with baud rate generator, a master/slave SPI, and a master/slave I2C with modes up to 1MHz.
And a small patch of configurable logic with two programmable look-up tables (LUTs) is included to mop-up random logic functions – for example when peripherals need to interact autonomously.
The touch controller can implement up to 14 self-capacitance or up to 49 mutual capacitance channels (fewer with the ATtiny3216) for buttons, sliders and wheels – as well as wake-on-touch, and there is a driven shield for improved moisture resistance and noise handling.
When ADC0 is not used for touch control, it is available for general-purpose data conversion alongside ADC1.
"The dual ADC can be used for synchronous sampling of analogue signals, such as voltage and current, thus improving the overall system real-time performance and accuracy," said Microchip. "Additionally, the devices feature a hardware-based event system that enables inter-peripheral communication without CPU involvement, reducing latency and ensuring faster system response."
Reliability options include automated CRC memory scan, a windowed watchdog timer, power-on reset, programmable brown-out detector and voltage level monitor.
The voltage level monitor can generate an interrupt if the supply voltage passes below a given threshold, acting as an early warning before the brown-out detector triggers reset. It can be used to store critical parameters into eeprom.
The devices operate at up to 5V and are available in -40 to 105°C and -40 to 125°C variants. Speed grades are 0-5MHz (1.8-5.5V), 0-10MHz (2.7-5.5V) or 0-20MHz (4.5-5.5V).
Devices are supported by Atmel Studio 7 IDE, the Start code configurator, and the ATtiny3217 Xplained Pro evaluation kit.
[ad_2]

Source link