[ad_1]

Despite the uncertainty created by the referendum vote in the summer, the distribution market in the UK is likely to show a better than expected 3% growth in 2016, according to the Electronic Components Supply Network (ECSN).
Aubrey Dunford, market analyst at the ECSN believes that both the 'pre' and 'post' referendum effects have been positive for the electronic components market.
"Although the result of the referendum has increased uncertainty in the market the devaluation of sterling against the dollar and euro has seen some increase in prices, which inflates the sales revenue," Dunford said.

"More importantly, UK based electronic equipment manufacturers are seizing the opportunities created by the more competitive pricing of their goods in export markets".
The ECSN forecasts that distribution's share of the total available market in the UK will rise to over 40% in 2017.
"Our members remain confident that there are opportunities to see further growth in 2017, despite the uncertainties" Dunford said.
That said, the outlook for 2017 is somewhat blurred by a number of factors that simply cannot be predicted with any certainly.
Still figures from ECSN's manufacturer and distributor members indicate that the UK & Ireland electronic component market could grow by 2.5% in 2017.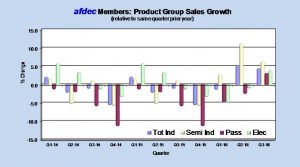 They believe the outcome of the Brexit negotiations are unlikely to affect the UK electronic components market in 2017, especially in the first half of the year.
Dunford, writes:
"The continued slow-down, particularly in the Asia Pacific market, combined with low interest rates has meant that the whole supply network is well stocked and manufacturers have ample production capacity. With good inventory availability and short lead times the electronic components supply network is well positioned to support the needs of its customers".
Adam Fletcher, ECSN chairman, sees many new emerging opportunities for domestic organisations in the UK and Ireland electronic components market to carve out a strong niche. In particular, he sees the 'connected' vehicle as the likely global electronic components industry driver over the next five years.
"It will open new markets both within new and existing vehicle platforms and will start to have a real impact on industry revenues by 2019," said Fletcher.
Fletcher believes there is the possibility of continued merger activity in 2017 and consolidating these changes will continue to be a challenge for all parties.
[ad_2]

Source link