[ad_1]

A group of firms from the LoRA Alliance, promoting the wide-areas IoT wireless standard, including STMicroelectronics, myDevices and Senet, carried out the demonstration.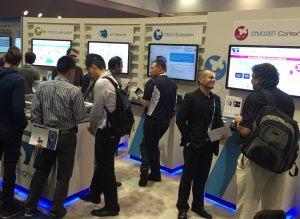 It included LoRaWAN-supported radio technology and automotive-navigation chips from ST, custom application dashboards from myDevices, and public LPWAN connectivity and services delivered by Senet.
"ST has enabled its STM32 microcontrollers and other relevant components to operate on the LoRa network," said Bob Krysiak, president Americas region, STMicroelectronics.
ST has integrated the LoRaWAN network stack into its STM32 Cube firmware infrastructure and installed its TESEO III automotive-navigation ICs in cars at the show in Las Vegas.  GPS data was converted to encrypted packets sent to LoRaWAN-supported radios for location tracking.
US-based Senet provided a secure data network which has been rolled out to support IoT application development and commercial IoT trials throughout the Las Vegas area.
"As proven by the rapid commercial rollout of our network in Las Vegas, Senet is the only LPWAN operator able to deliver commercial grade LPWAN services at a low cost and with speed and scale across North America – ranging from 60 days or less for broad outdoor coverage and as little as a few days to a few weeks for indoor coverage," said Will Yapp, vice-president of business development for Senet.
The demonstration used the asset tracking capabilities of myDevices' Cayenne IoT project builder.
[ad_2]

Source link