[ad_1]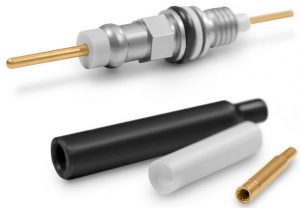 Called Vortex, the single-way connectors are designed for logging-while-drilling (LWD), measurement-while-drilling (LWD) and wire-line applications.
With a mating boot and Hypertac  hyperboloid contacts, they work at 200°C, 35,000PSI, 500gravity shock and 10gravity vibration while mated.
"The series provides exceptional protection of critical electronics in the harsh environment that is typical of the oil and gas applications allowing customers to exploit more demanding geographies and geologies with deeper drilling and fracking capabilities," said Smiths.
Wiping action from the hyperboloid contact is claimed to reduce heat build-up, which acts to increase battery life, and improve signal integrity.
"Smiths Connectors developed the Vortex series specifically to address the emergent needs and requirements of the oil and gas Industry," said v-p marketing Jeffrey Dick, "As companies look to expand exploration and drilling locations around the globe, the need to protect their resources and ensure accurate data collection has never been greater."
[ad_2]

Source link