[ad_1]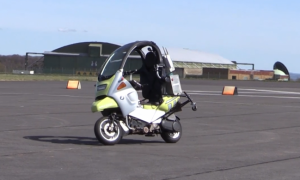 Well, one possible answer is: to help test the driverless cars, to respond to more real world, unpredictable interactions from fellow road vehicles…
It's the idea of UK automotive test specialists AB Dynamics. Check out the video below, which shows a prototype system (based on a BMW C1 bike) produced as a technology demonstrator. Note the "outriggers" will not be used in the final system.
You can see the bikes demonstrate slow-speed stability, and orchestrated scenarios, such as overtaking a car and stopping at a junction. This is done using AB Dynamics' own Synchro wireless telemetry system.
The company writes
[It is] a driverless motorcycle system, developed in collaboration with AutoRD, which can accurately follow trajectories and speed profiles. The motorbike's movements are programmed using AB Dynamics' established RC software with its best-in-class path following capability.

Coordination with other vehicles is achieved thanks to the AB Dynamics' Synchro system, allowing the driverless motorbike to be part of complex traffic scenarios for testing ADAS technology or self-driving cars.
The company is now looking to develop the technology.
"At the present moment, we have proved that the technology works, and now we are looking for interested potential customers to help us steer further development on this project," said senior systems engineer Richard Simpson.
Thanks to Sue P. for highlighting this one.
[via New Atlas]
[ad_2]

Source link