[ad_1]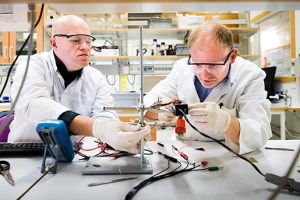 The actuators, according to 'Knitting and weaving artificial muscles', a paper in Science Advances, typically deliver a few megapascals of stress, beating mammalian skeletal muscles which score around 0.35MPa.
However, they are slow at the moment, acting over several seconds.
Woven muscles exert more force, but knitted ones are stretchier and elongate more.
"If we weave the fabric, for example, we can design it to produce a high force," said scientist Nils-Krister Persson of the University of Borås. "In this case, the extension of the fabric is the same as that of the individual threads. But what happens is that the force developed is much higher when the threads are connected in parallel in the weave. This is the same as in our muscles. Alternatively, we can use an extremely stretchable knitted structure in order to increase the effective extension."
A polymer called polypyrrole is behind the activity, it changes volume by when it is exposed to a few volts – through the number of ions and amount solvent in its bulk altering as a result of electro-chemical oxidation or reduction.
Coating a fibre – cellulose-based Lyocell – with this material results in a fibre with electrically-adjustable length.
In this case, coating was in two stages – a seed layer of the conductive polymer PEDOT followed by polypyrrole.
Testing was done in a liquid, with a bias of −1.0V and 0.5V.
"Our approach may make it possible in the long term to manufacture actuators in a simple way and hopefully at a reasonable cost by using already existing textile production technology." said Edwin Jager of Linköping University, which worked with the University of Borås on the project. "What's more interesting, however, is that it may open completely new applications in the future, such as integrating textile muscles into items of clothing."
Funding came from organisations including the Carl Trygger Foundation, the Swedish Research Council, the Smart Textiles Initiative (VINNOVA), the European Scientific Network for Artificial Muscles and the EU's 7th Framework Programme.
[ad_2]

Source link