[ad_1]

A lot can happen in the electronics industry during the two years between one Electronica exhibition and another.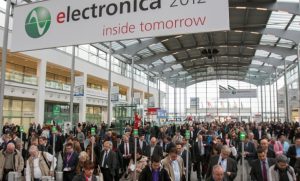 ST
At the time of the last exhibition in 2014, STMicroelectronics was still top dog in Europe; now it has been surpassed by both Infineon and NXP.
This has mainly been achieved through acquisition, of course, with Infineon swallowing International Rectifier and NXP gobbling Freescale. But acquisitions are made possible by strong balance sheets and ST's lack of significant acquisitions reflect a balance sheet that has been allowed to slip.
ST's decade-long slippage continues. Its revenues, which were $7.4bn in 2014, slipped to $6.9bn last year and were $3.3bn in the first half of this year.
Ten years ago ST's revenues were just shy of $10bn.
Bookmark www.electronicsweekly.com/electronica/
ARM
ARM has been another acquisition target. The Cambridge-based processor firm has been foisted onto the Japanese by the City in what looks like a lose-lose deal for both sides.
Time will tell whether ARM's licensees stick with ARM cores now that the company has lost its independence to a heavily indebted Japanese telecoms network operator, or whether they will look elsewhere for their low power processor cores.
Globalfoundries
Globalfoundries has decided to put serious weight and focus behind next generation semiconductor process technology known as FD-SOI, or fully-deleted silicon-on-insulator.
The foundry's fab in Dresden is taking the lead role in development.
Europe
In another European semiconductor fab development, the Cardiff Cluster for compound semiconductor wafer production, which include gallium arsenide and gallium nitride wafers, is now getting serious support from the UK government and has attracted public funding from various sources of around £250m.
The fancy, glassy, £61m National Graphene Institute (NGI) was opened in Manchester in March last year by our former Chancellor of the Exchequer to a remark from one of the Nobel Laureate knights who discovered the material that the NGI was more of an investment in the British building industry than in graphene.
Since then the Sunday Times has reported that the building is mostly empty, with the scientists allotted to it preferring to work in their old offices. Nothing much has come out of the NGI except a longer lasting light bulb.
In the wider electronics product market there are signs of the old order in Europe changing to be replaced by the new.
The remnants of Nokia's phone business were sold off earlier this year for $350m to Foxconn after Microsoft had paid $7.6bn for them – a value which was already massively down on Nokia's peak market value of $250bn.
Ericsson has said it would close its telecoms manufacturing operation in Sweden with the loss of 3,000 jobs.
Bust unicorn
Every government in Europe now believe its a good idea to encourage high-tech start-up companies. Financial communities in London and Berlin have fostered a plethora of start-up algorithm companies, many fintech companies in the financial sector because that's where the money is. Many of these are so-called 'unicorns, start-up companies valued at $1bn or more.
But there is no easy to make and, this year, London had its first bust unicorn with payments company Powa Technologies, once valued at $2.7bn, collapsing spectacularly into bankruptcy in February.
Europe has fostered 47 unicorns, led by Spotify which was valued at $8.5bn in its June 2015 funding round.
There are 18 unicorns in the UK, seven in Sweden, six in Germany, three in France, three in Israel, and others in Switzerland, Luxembourg, and Denmark.
Are we seeing the European old order – Nokia, Ericsson, Alcatel – being replaced by the new algorithm guys? Maybe. European and Israeli company exits in Q2 were worth $2.4bn, according to TechEU.
Brexit and beyond
And then in the summer of 2016, Brexit set the scientific community all in a tizzy because the EU has become a munificent patron of R&D. The Chancellor of the Exchequer has said he will maintain the science budget but few believe that he will continue to match the largesse of Europe.
Meanwhile there are stories of UK bodies being denied places in EU projects because of the referendum vote.
So, much to discuss in the bars of Munich when Electronica 2016 opens next month.
Stay on top of all Electronica developments – simply bookmark www.electronicsweekly.com/electronica/
[ad_2]

Source link