[ad_1]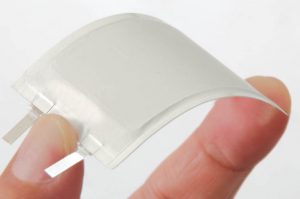 According to Panasonic: "Optimised for high frequency switching, the gate driver un-locks the full performance of the company's line-up of 600V enhancement mode X-GaN transistors."
It will be interesting to see what form this takes, and whether negative drive is included during switching despite the transistors being enhancement mode as some other GaN companies have found.
To go with this will be GaN-based demos: an "ultra-compact" AC adaptor and a motor drive for mechatronic.
Alongside the GaN will be a couple on Li-ion cells: the tiny cylindrical 'pin' cell we mentioned a few days ago and a flexible battery only 0.55mm thick which "retains charging and discharging characteristics even with repeated bending and twisting". Smart clothing and card devices are potential applications.
Hybrid capacitors on the stand will apparently combining the advantages of electrolytic and solid-polymer capacitors for automotive and industrial applications alike between 25 and 80V. They offer a "dramatic" improvement in ripple current rating (RCR) and offer operation at -55 to 105°C (ZA series) or -55 to 125°C (ZC and ZK series). Guaranteed life is 10,000h lifetime at 105°C and 4.000h at 125°C. Endurance at 3.000h at 125°C allows the possibility to augment the RCR up to 1.5 times.
Using metal powder in the core, Panasonic has created a 12 x 12mm suface-mount automotive power inductor suitable for engine, start-stop and electric power steering applications. Called ETQP8MxxxJFA, it can replace rod-cored components as well as some larger inductors – up to 17 x 17mm, it claims.
Grid-Eye is Panasonic's infra-red sensor brand, and this year sees the second generation revealed including: high gain types (AMG8833 and AMG8834) and low gain types (AMG8853 and AMG8854) and benefits from noise-equivalent temperature difference (NETD) improved to 0.16°C at 10Hz and of 0.05°C at 1Hz. "For all Grid-EYE 2nd Generation models the detection distance has improved from 5m up to 7m", said the firm.
Lastly, and not actually an electronic component, is a thermal interface material for IGBT modules called Soft PGS. "Compared with Panasonic's regular PGS thermal management solution, the high compressibility of Soft PGS helps reduce contact thermal resistance due to better fitting to uneven surfaces," said Panasonic
[ad_2]

Source link