[ad_1]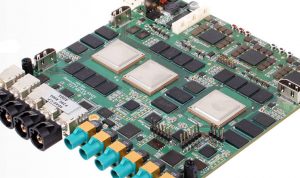 RT-RK Alpha development board uses three TDA2x SoC and supports development of ADAS applications such as 'advanced warning' systems, 'active control' systems and semi-autonomous driving, and can running up to six independent ADAS applications simultaneously, for 24W consumed.
"It supports 10 sensor inputs, parallel ADAS application execution and production ready ADAS algorithms, and is based on TI's Vision SDK," said TI. "The board was designed to support multiple applications on a single board, and with provisions to add differentiating algorithms."
"For the first time, there is an option to connect all vehicle cameras on one ECU, said Tomislav Maruna, RT-RK head of automotive business. "Through workload balancing across three TDA2x, the Alpha board is a platform for level-3 and level- 4 autonomous vehicle systems."
TDA2x is a member of TI's scalable family of processors that share a common hardware and software architecture for ADAS, in applications such as camera-based front (mono/stereo), rear, surround view and night vision, plus multi-mode radar and sensor fusion systems.
The architecture integrates hardware accelerators such as image signal processors, embedded vision engines and DSPs.
"To meet performance and quality requirements, TI works with third parties that have solutions and expertise with the TDAx architecture," said TI. "Using the ecosystem, customers can leverage algorithms already implemented on the architecture."
TI is in Hall A4 at Booth 219
The ecosystem at Electronica:
We focus on the automotive and transportation industry, developing driver assist solutions, connectivity technologies, and power train efficiencies to drive new features in the automobile. In the ADAS space, we bring scale to OEMs and Tier-1s in their product development efforts. With experience in system engineering, algorithm development, image processing, sensor fusion, control module development, AUTOSAR integration, and end to end validation; KPIT is one stop for most engineering solutions.
Rajeeb Nath, head of automotive at KPIT.
FotoNation is proud to be a strategic partner to TI, and contributor of camera technology to the TDAx ecosystem in support of ADAS applications for the automotive industry.
Sumat Mehra, senior vice president and general manager at FotoNation.
D3 Engineering is supporting dozens of product development programs around the world with our DesignCore platforms for ADAS. Our clients are able to concentrate on their core expertise by relying on D3's reference designs and our expertise with TI's ADAS technology.
Jerome Barczykowski, Autonomous Systems Product Line Manager, D3 Engineering.
The TI product portfolio is a great fit to our business model. The TDAx SoC system performance enabled us to realise a short time to market.
Kay Talmi, MD Hella Aglaia Mobile Vision.
We were able to implement our solution cost-efficiently and with a short time-to-market on TI's TDAx platform for CMS.
Young-Hun Kluge, v-p sales, Dream Chip.
[ad_2]

Source link