[ad_1]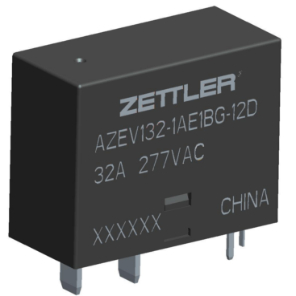 AZEV116 and AZEV132 are IEC mode 2 electric vehicle charging relays in development for release in 2019, and are designed to survive high momentary currents that may occur on short circuits without contact welding.
They also have a potential monitoring contact, as required by IEC62752:2016.
AZSR1160 is a 160A high-power PCB solar relay for photovoltaic applications of up to 36,8kVA (single phase 230Vac) / 111kVA (three phase 400Vac).
Intended as a small footprint substitute for conventional contactors, it is suitable for large commercial and rooftop-based systems, as well as commercial solar fields.
AZSR190 is a 90A power PCB relay for solar inverters – developed for PV applications of up to 23kVA (single phase 230Vac) / 69kVA (three phase 400Vac)  – so for medium sized to larger roof top and commercial systems.
AZSR165 is a 65A economy version of the AZSR190 above, working up to 18,4kVA (single phase 230Vac) / 55kVA (three phase 400Vac). "Zettler recently also adapted this relay for a DC-side solar battery storage application," said the firm.
AZDC6 is a 600Vdc miniature relay for solar 'rapid shutting down system' (RSS).
Scheduled for 2019 release "the compact size allows for a thinner design of certain RSS boxes that are deployed as part of compliance with 2017 NEC 690.12," said Zettler.
See the relays in hall A6 in booth 118 in Munich.
[ad_2]

Source link