[ad_1]

And continuing our series on the EW BrightSparks of 2017 we highlight John Alton, of Lascar Electronics.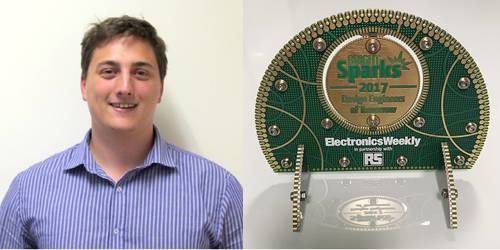 Capacitive touch
Described by colleagues as "intelligent, diligent, hard-working and immensely clever – a credit to engineers". He goes the extra mile to deliver solutions to the most complex engineering problems and is described as a key, client-facing engineer behind the company's capacitive touch display range. He is already managing custom projects.
Having embarked on an electronics engineering degree at the University of Southampton, he starting a summer internship at the company, which takes up the story:
During that first summer, he was introduced to the new PanelPilot display range, and began work on the first proof of concept of what would become PanelPilotACE, our custom panel meter and touchscreen controller. John returned to Lascar every summer before joining the company full time upon graduation in 2014.

Today, he continues to work on the PanelPilot range. Recent developments he has brought to market include data logging functionality, a seven inch display variant and RS485 features.
BrightSparks Selection Panel comments
Lindsley Ruth (CEO, RS Components) – John's ability to understand the customer and how they use the product, and then apply this knowledge, is ultimately what makes him a worthy EW BrightSparks winner.
Isabella Mascarenhas (IET's Young Professionals Engagement Manager) – John sounds like a very committed young professional, who is gaining excellent experience with Lascar particularly with new product development and international communication and training. Delightful to hear such positive praise for him.
[ad_2]

Source link