[ad_1]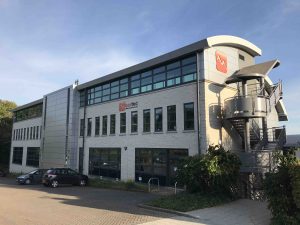 Moortec, the developer of silicon IP for monitoring chip performance, has opened a new UK headquarters on the Plymouth Science Park.
Moortec's IP monitors on-chip parameters such as process, voltage and temperature (PVT) in CMOS devices fabbed on 40nm down to 7nm process technologies.
In this way designers can optimise chip performance.
Ramsay Allen, v-p of marketing at Moortec, writes:
"The four-story office and lab complex provides more space for our growing team and will allow us to build on our position as the only dedicated provider of embedded PVT monitoring IP."
Moortec decided to remain on the Science Park due to its strong on-site science based community.
"The rapid growth of Moortec in the last two years has meant that we are now operating on a truly global scale with customers in the US, China, Taiwan, South Korea, Japan, Russia and Israel," said Allen.
Last year the company secured investment from Altitude Partners, the regional private equity fund.
[ad_2]

Source link