[ad_1]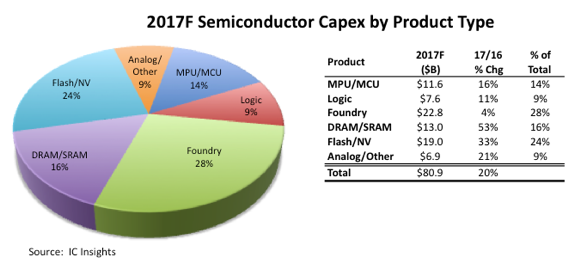 With a projected 53% increase in 2017, and DRAM prices surging since Q3 2016, the DRAM/SRAM segment is expected to display the largest percentage growth in capital expenditures of the major product types this year.
With DRAM prices surging since the third quarter of 2016, DRAM manufacturers are once again stepping up spending in this segment.
Although the majority of this spending is going towards technology advancement, DRAM producer SK Hynix recently admitted that it can no longer keep up with demand by technology advancements alone, but needs to begin adding wafer start capacity.
Even with a DRAM spending surge this year, capital spending for flash memory in 2017 ($19.0 billion) is still expected to be significantly higher than spending allocated to the DRAM/SRAM category ($13.0 billion).
Overall, IC Insights believes that essentially all of the spending for flash memory in 2017 will be dedicated to 3D NAND process technology, including production of 3D NAND at Samsung's giant new fab in Pyeongtaek, South Korea.
Capital spending for the flash memory segment is forecast to register a 33% surge in 2017 after a strong 23% increase in 2016. However, historical precedent in the memory market shows that too much spending usually leads to overcapacity and subsequent pricing weakness.
With Samsung, SK Hynix, Micron, Intel, Toshiba/Western Digital/SanDisk, and XMC/Yangtze River Storage Technology all planning to significantly ramp up 3D NAND flash capacity over the next couple of years (and new Chinese producers possibly entering the market), IC Insights believes that the future risk for overshooting 3D NAND flash market demand is high and growing.
[ad_2]

Source link