[ad_1]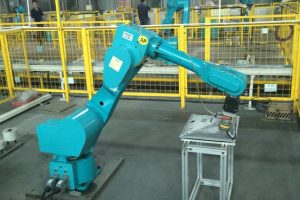 Foxconn has ten 'lights out' fully automated production lines at its Chinese factories and is increasing automation levels on other lines by deploying 10,000 new robots a year, reports Digitimes.
Foxconn makes its own robots which it calls Foxbots. It has already installed 40,000 at its factories.
Foxconn's eventual aim is to automate entire factories with only a minimal number of workers assigned for production, logistics, testing and inspection processes.
It's a similar strategy to Amazon which bought robot manufacturer Kiva Systems in 2012 to build robots to automate its fulfilment centres.
Recently it was revealed that Foxconn is working on a report asked for by Apple on how it might do its assembly of Apple products in the USA following the President-Elect's threat to penalise US goods made abroad.
Recent reports from the World Economic Forum, the UK IPPR and the White House have all predicted tens of millions of job losses as a result of automation.
[ad_2]

Source link