[ad_1]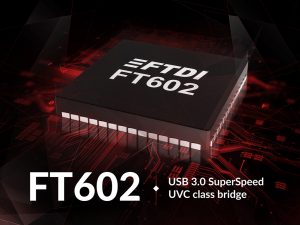 The company's FT602 devices support the streaming of video content from high definition camera equipment. This means that imaging systems which would have previously only been capable of delivering relatively low resolution material can gain substantially elevated video quality but still run at 60fps frame rates.
Improved performance can be benefitted from while viewing captured imaging data via standard UVC enabled hardware and commonly used media player platforms (such as VLC Player). This ensures greater convenience – with minimal investment being needed to upgrade existing systems, or to design and deploy new systems from scratch. No custom drivers are required, thereby permitting straightforward plug-and-play implementation.
The FT602 series complements FTDI Chip's already available FT600 and FT601 product offerings, presenting development engineers with a comprehensive USB 3.0 portfolio.
These latest devices are capable of providing both USB 3.0 SuperSpeed (5Gbps) and USB 2.0 High Speed (480Mbps) interfacing. They each incorporate a 32-bit parallel FIFO interface for data streaming and a UART interface for control path configuration.
Supplied in 76-pin QFN packages, they have a specified working temperature range spanning from -40°C to 85°C.
Among the key applications for this series of ICs are surveillance/security, machine vision, home/building automation, metrology, real-time microscopy, etc.
"There are a myriad of different sectors where enhanced levels of video quality are now proving to be highly desirable. Low resolution video is simply no longer enough, as real-time examination needs to be carried out in much greater detail," says Fred Dart, CEO and founder of FTDI Chip, "by adding a UVC enabled solution to our range of USB 3.0 interface ICs, we are well positioned to address this growing demand, accelerating the migration to high definition video systems, but at the same time mitigating any concerns about system cost effectiveness."
"Since USB first started to see widespread uptake, FTDI Chip has been at the heart of its technological progression," adds Dart, "this latest IC introduction proves that we are still setting the pace as USB enters its next era."
[ad_2]

Source link