[ad_1]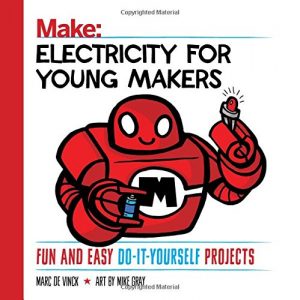 Aimed at kids aged eight or over, and written in a very informal style, the short book covers six projects introducing the use of electricity, such as lighting an LED from pennies…
The publishers, O′Reilly, write:
Learning to be a maker has never been more fun. Lavishly illustrated with cartoons and drawings, this book guides the reader through six hands-on projects using electricity. Discover the electrical potential lurking in a stack of pennies – enough to light up an LED or power a calculator! Launch a flying LED copter into the air. Make a speaker that plays music from an index card. Build working motors from a battery, a magnet, and some copper wire. Have fun while learning about and exploring the world of electricity.

The projects in this book illuminate such concepts as electric circuits, electromagnetism, electroluminescence, the Lorentz force and more. You'll be amazed by the results you get with a handful of simple materials.
The author
The author is Marc de Vinck, the Dexter F. Baker Professor of Practice in Creativity in the Masters of Engineering in Technical Entrepreneurship Program at Lehigh University.
A member of the Make: Technical Advisory board, he's a prolific writer on do-it-yourself science and technology. Among other things, he implemented the Maker Faire's 'Learn to Solder' programme, which has apparently taught more than 10,000 people to date.
Read more information about the book raquo;
It is priced at £10.50 for the paperback edition, with the e-book version costing £9.59.
Electricity for Young Makers details
Title: Electricity for Young Makers: Fun and Easy Do-it-Yourself Projects
Author: Marc de Vinck
Pages: 82 pages
Age Range: 8 – 12 years
Publisher: O′Reilly (21 March 2017)
Language: English
Print ISBN: 978-1-68045-286-0 | ISBN 10:1-68045-286-X
Ebook ISBN: 978-1-68045-282-2 | ISBN 10:1-68045-282-7
[ad_2]

Source link