[ad_1]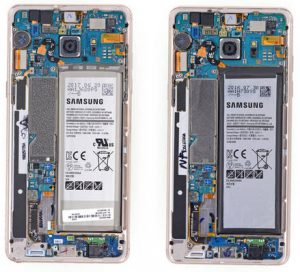 The recycled phones are called Galaxy Note Fan Edition, and are recalled phones with a new battery.
iFixIt has published a tear-down of the Fan Edition, compared with an un-recycled 7.
According to iFixIt:
"Side-by-side, the Note7 and the Fan Edition look almost identical. But aside from any chemical modifications, there are some important external changes to the battery: Our Fan Edition's Samsung SDI battery has less volume, is slightly lighter, and took an almost 9% reduction in capacity in comparison to our recalled Note7 Samsung SDI battery."
It points out the the phones are tough to get apart, and are tough to disassemble once they are apart.
There is plenty more interesting information if you click the link above, and it has a blog post.
The photo comes from the iFixIt website.
[ad_2]

Source link