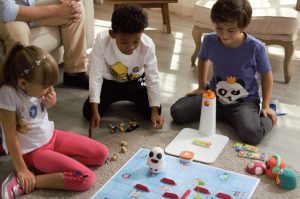 A Chinese firm has created an educational robotic game for the very young which it says can lay the foundations for developing logic and programming skills.
Matatalab says the aim of the toy is to address the stage of brain development at around age four when the brain lays the groundwork for development of logic.
It does this through interactive, physical gameplay with hands-on coding blocks and the feedback from the educational robot.
Matatalab, writes:
"Computer programming is based on simple logical concepts that can be learned by children early in life through simple games developed specifically for their age.

"Equipped with the understanding of these fundamental concepts, children at a later age will be able to grasp more abstract concepts of STEM classes and real programming at school and can learn without fear."
The toy allows for group play which helps facilitate human brain development. The interaction comes from customising the robot and role-playing.
The company has worked with educational psychologist Dr. Jef van Kuyk as part of developing children's learning methods through evaluation and assessment testing.
There is a Kickstarter campaign and a $99 starter pack will include 16 programming blocks, challenge book, maze game map, 2 brick (minifig) adapters, 2 MatataLab figures, 1 destination flag, Command tower, and MatataBot.