[ad_1]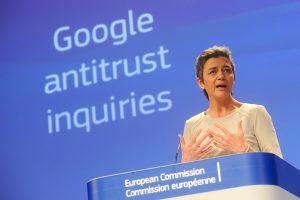 Google is in line to beat Intel for incurring the largest-ever EU fine for abuse of a dominant position.
The EU's beef is that Google searches favour Google's own price comparison web-site over  rival sites.
The EU fined Intel $1 billion for a series of dirty tricks to prevent AMD's PC CPUs, which were at that time superior to Intel's CPUs, from gaining share in the market.
Google is not only facing a $1 billion fine, it is also facing demands to change its price comparison business model.
If Google doesn't agree to change the model by a certain date, Google could be hit by fines of up to 5% of average daily turnover for every day it fails to come up with an acceptable model.
The maximum fine which the EU can impose is 10% of revenues which, in Google's case, were $90 billion last year.
Google can appeal any decisions to the European courts but these act as judge and jury in their own cause.
[ad_2]

Source link