[ad_1]

Google Home is a voice-activated product that brings the Google assistant to any room in your house via a Wi-Fi-connected speaker.
It was something Pichai had waxed poetic on-stage about a few months ago, and then proceeded to fall off the radar for most people. However that all changed at October's #madebygoogle event, where the search giant finally announced its pricing and availability.
Google Home will retail for $129 (around £100, AU$170) and is available to purchase right now on the Google Play Store with delivery on November 4 2016.
That puts it well below Amazon Echo's price of $179 (£150, around AU$230), which should make Google Home an attractive option to buyers.
What is Google Home?
Google has painted a pretty pristine image of what it'd be like living in the smart home of the future, but we don't need to wait for it to arrive to experience it – we already have an idea of what it's like thanks to the Amazon Echo.
In many ways, Google Home will be nearly identical to the device some 3 million of us have in our homes already. For those who haven't seen or used an Echo, however, it works a lot like Siri on your iPhone or the voice assistant function on Android.
What Google's smart home speaker plans on doing differently, however, is being better at controlling your smart home devices, starting with Google's recently acquired Nest series of products, and integrating with any Google Cast-enabled device you might have lying around the house.
The list of streaming services that Google Home is compatible with is impressive, from music services such as Spotify, Pandora and TuneIn, to video services such as Netflix and YouTube.
What Google hopes to accomplish here is that, with a simple voice command you can ask Google Home to play a song, throw on your favorite TV show, check your flight or turn on your lights, all without leaving the comfort of the couch.
And, unlike the refined-but-super-simplistic Amazon Echo, the Home promises customizable bases in different colors and materials that will match your decor.
It's a system that has all the trappings of a smart home control center, and could potentially be the device that brings the fractured category together under one banner.
You can ask it to play a song or ask it a question like "what day is Father's Day this year," (the answer, in case you're wondering, is June 19) or "what's the weather like in Venice?" All questions need to be prefaced by a keyword – OK, Google in this case – which causes the speaker to start listening.
Google's history in search means that Google Home is pretty good at guessing what you want, even if you're not completely sure yourself. Onstage at its #madebygoogle event, the speaker was shown intelligently guessing which song to play from Spotify based on a vague description that included the artist as well as a movie soundtrack it had been featured on.
Navigation and translation is also supported thanks to Google's Maps and Translate services respectively.
If weather, sports and current events aren't enough, Amazon allows you to install additional plug-ins from third-party sources that expand the functionality of the Echo. Uber and Domino's Pizza are two of the many services who have already signed up and allow you to order a car or a pizza, respectively, using voice commands. It's likely that Google will take a page – er, more like a chapter – from Amazon's book and also include those functions in Google Home.
Cut to the chase
What is it? A smart speaker with an AI assistant built-in
When is it out? November 4 2016
What will it cost? $129 (£99/AU$169)
But both the Echo and the Home are more than just an artificial intelligence, they're capable Bluetooth speakers, too.
During the opening keynote of Google's I/O Developer Conference, Mario Queiroz, vice president of product management at Google said, "Google Home is a Wi-Fi speaker that streams music directly from the cloud so you get the highest quality playback. It will deliver rich bass and clear highs all from a beautiful compact form factor."
So, sort of like an ultra-smart Sonos system.
"Of course you can access songs, playlists, albums, artists, and podcasts from your favorite music services just by asking with your voice. Or if you prefer, you can send music from your android or iOS device through Google Cast."
Google Cast
Let's focus for a minute on those last two words: Google Cast. If Home has one absolutely killer feature, Google Cast is going to be it.
Google Cast, if you're a bit unsure, is a wireless communication protocol like Bluetooth that allows two products (like a phone and a speaker) to communicate with one another.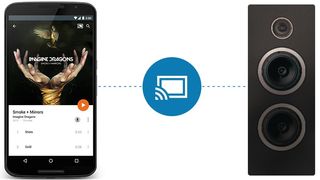 At first, Google says, you'll be able to ask Home to play something on any Google Cast-enabled speaker in your home. That means, like Sonos, you'll be able to control what music is playing in which room, but all using your voice instead of an app on your phone.
It can also control what content goes on your TV thanks to integration with Netflix and YouTube.
"Want to watch that episode of Jimmy Kimmel or the trending YouTube video on your TV? Just tell Google Home and the content will appear on the biggest brightest screen in your house," Queiroz said.
At it's #madeingoogle event, a stage demonstration saw the speaker being used to play a YouTube clip from John Oliver's This Week Tonight.
The shining jewel of your smart home
Google Home is sort of a three-part system. Parts one and two, the Google Assistant and Bluetooth speaker, we've already gone over. The third part, however, is a sort of virtual hub for smart home devices, similar in nature to Samsung SmartThings.
Google's list of home automation partners naturally includes the Nest thermostat, which the company owns, but also the Philips Hue smart bulb system.
However, going forward it might be hard to convince other smart thermometer makers to build Google Home functionality into their devices while Google Nest continues to bogart the market for itself.
All of this theorizing is conjecture, of course, until we learn more about Google's future partnership plans.
Release date and price
Google home will be available from November 4 2016 at a price of $129 (around £100, AU$170) which is significantly cheaper than Amazon's home automation offering, especially considering this launch prices includes six months of YouTube's premium Red subscription service.
So, how does Google Home stack up against Amazon Echo? I'm glad you asked.
[ad_2]

Source link