[ad_1]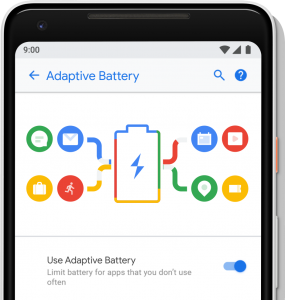 It's an update that includes the final Android P APIs (level 28), the latest system images, and updated developer tools, says Google.
You can read a features overview of Android P.
These include things such as indoor Positioning with Wi-Fi RTT, changes to the handling of notifications, support for multi-camera, support for High Dynamic Range (HDR) VP9 Profile 2 video and new ways of handling animated images.
AI
Google is boasting the Android P will put AI at the core of the operating system.
Google writes:
We partnered with DeepMind on a feature we call Adaptive Battery (pictured above) that uses machine learning to prioritize system resources for the apps the user cares about most. If your app is optimized for Doze, App Standby, and Background Limits, Adaptive Battery should work well for you right out of the box. Make sure to check out the details in the power documentation to see how it works and where the impacts could be, and test your apps to make sure they are ready.

App Actions is a new way to help you raise the visibility of your app and help drive engagement. Actions take advantage of machine learning on Android to surface your app to the user at just the right time, based on your app's semantic intents and the user's context. Actions work on Android P and earlier versions of the platform and they'll be available soon for you to start using. Sign up here to be notified when Actions are available.
Security
In terms of security, Android P introduces a system-managed dialog, says Google, to prompt the user for any supported type of biometric authentication. Check out the BiometricPrompt API.
You can get Android P Beta 2 on Pixel devices by here.
Read more on the full Google announcement.
[ad_2]

Source link