[ad_1]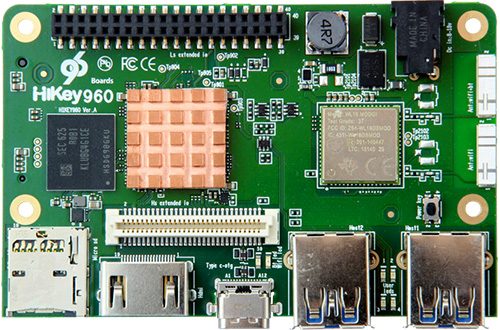 For context, this may interest those persevering with the Android Open Source Project (AOSP), which is the genuinely open-source, non Google Play controlled version of Android.
Formed in 2010, Linaro is a member engineering organization that works on open-source software such as Linux kernel and the AOSP. And what is 96Boards? It describes itself as "a range of hardware specifications created by Linaro to make the latest ARM-based processors available to developers at a reasonable cost."
The development platform is based around the Huawei Kirin 960 octa-core ARM big.LITTLE processor with four ARM Cortex-A73 and four Cortex-A53 cores with 3GB of LPDDR4 SDRAM memory, 32GB of UFS 2.0 flash storage, and a Mali-G71 MP8 graphics processor.
It's aimed at mobile developers and product design for markets like digital signage, point of sale (POS) and robotics.
"We are very pleased to be working with Linaro members ARM, Huawei, Google, Archermind and LeMaker on this product", said George Grey, Linaro CEO.

"The HiKey 960 delivers on the goal of 96Boards to provide access to the latest ARM technology to the developer community, with support for the latest Huawei mobile SoC featuring high performance ARM Cortex-A73 cores coupled with the latest generation of ARM Mali™ GPU technology."
It is available now through Archermind (Alpha-Star) and LeMaker (Lenovator), the HiKey 960 96Boards development platform is on sale at US$239 and is expected to be available through local distribution in the US, EU and Japan in early May.
"We are very pleased to bring our highest performance mobile SoC to the 96Boards program and to be working with Google and Linaro in the AOSP project," said Benjamin Wang, Deputy General Manager of Huawei Wireless Terminal Chipset Business Unit.

"We expect that developers will be excited to get access to the latest ARM CPU and GPU technology, as well as new features such as a PCIe M.2 card interface for additional high performance storage or wireless cards, all running using the latest AOSP builds."
Read more information about the Huawei release »
And Linaro is providing instructions for developers at linaro.co/hikey960-start.
Component
Description
SoC
Kirin 960 octa-core CPU
4x Cortex-A73 cores to 2.4 GHz
4x Cortex-A53 cores to 1.8 GHz
Mali-G71 MP8 GPU
Software
AOSP with 4.4 AOSP common kernel
Storage
32GB UFS 2.0 flash storage and microSD card slot
Video Output / Display Interface
HDMI 1.2a up to 1080p plus 4-lane MIPI DSI
Connectivity
Dual-band 802.11 b/g/n/ac WiFi and Bluetooth 4.1 with on board antennas
USB
2 x USB 3.0 type A host ports
1 x USB 2.0 type C OTG port
Camera
1x 4-lane MIPI CSI
1x 2-lane MIPI CSI
Expansion

PCIe Gen2 on M.2 M Key connector

40 pin low speed expansion connector +1.8V, +5V, DC power, GND, 2x UART, 2x I2C, SPI, I2S, 12x GPIO
60 pin high speed expansion connector 4L MIPI DSI, 2L+4L MIPI CSI, 2x I2C, SPI (48M), USB 2.0
Misc
LEDs for WiFi & Bluetooth, 4x user LEDs, power button
Power Supply
8V-18V/2A via 4.75/1.7mm power barrel (EIAJ-3 Compliant),12V/2A power supply recommended
Dimensions
85mm x 55mm
See also: Huawei develops ARM-Android open source platform for Linaro
[ad_2]

Source link