[ad_1]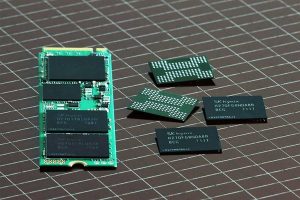 The 256Gbit TLC chips chips are being used to deliver a 1Tbit SSD which uses Hynix' own controller chip..
The chips are currently being made in Hynix' Cheongju fab but it plans to add production from its Icheon plant in Q3.
Hynix is the third largest of the big four NAND producers with 11.4% market share, says IHS Markit. Samsung has 36.7% share, Toshiba/Western Digital have a 32.7% share and Micron has 11.1%.
In separate news, it is reported that Hynix is now trying to get a 33.4% stake in Toshiba with the two government bail-out agencies INCJ and DBJ taking 66.6%.
[ad_2]

Source link