[ad_1]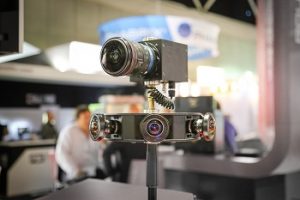 The camera, called Studio.One can be operated by one person.
"The basic premise of Studio.One is pretty simple: an array of high resolution cameras with wide angle lenses register an event from all relevant angles – without the need for human operators. Features such as camera pan, tilt and zoom are altered live or during post-production. As such, it becomes possible to capture and edit complex events with just a single operator," says Philippe Bekaert, a co-founder of AZilPix.
Studio.One is an open system that can easily be integrated in existing production environments. It can be controlled remotely if operator access to the event site is undesirable (when the system is used to capture surgical interventions, for instance).
"Studio.One comes with high-resolution cameras that can be equipped with wide-angle or fish-eye lenses to capture a very wide field of view. From a software perspective, the solution is complemented with advanced, ultra-high performance, algorithms implementing a full computational videography pipeline with monitoring tools," says Azilpix CEO Jan Looijmans.
See also a new Jump camera, the YI HALO, which is made by Google and Yi Technology. It is 17 cameras in one, requiring special software (Jump Assembler) to edit together the high-def (8K) images (8K x 30fps, 5K x 60fps).
[ad_2]

Source link