[ad_1]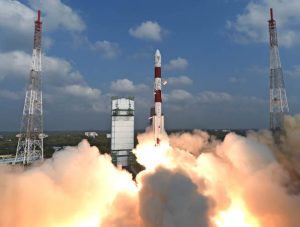 Taking off this week, it was the 39th flight for the country's India's Polar Satellite Launch Vehicle (PSLV) design, with ISRO's own 714kg Cartosat-2 earth observation satellite as its primary payload.
Sharing the ride were 103 nano satellites together weighing ~663kg. All went off into a 505km polar sun-synchronous orbit from the Satish Dhawan Space Centre.
Two of the nano-stats are from ISRO, then there was one each from Kazakhstan, Israel, The Netherlands, Switzerland and the United Arab Emirates.
However, the bulk were from two US private companies – eight LEMURs for Spire Global and 88 Doves for Planet.
Combined with the 12 Doves already flying, the 88 will orbit as Planet's 100 satellite 'line-scanner' earth photographing constellation.
The 101 international customer nano-sats were launched through commercial arrangements with Antrix Corporation – and Indian Department of Space company, and the commercial arm of ISRO.
This was the sixteenth flight of PSLV in 'XL' configuration (with the use of solid strap-on motors).
PSLV is itself interesting, being a four-stage design with alternating solid and liquid propellant stages, with widely-differing technologies used in each stage.
The primary satellite, a Cartosat-2, is the fifth in the series and carries panchromatic and multi-spectral cameras. Although not stated for this one, the resolution of the panchromatic camera in earlier Cartosat-2s is thought to be 1m.
It will be used, said ISRO, for Indian cartography, including creating land-use maps, road network monitoring and water distribution monitoring.
[ad_2]

Source link