[ad_1]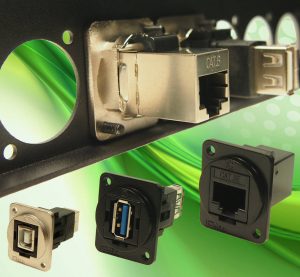 "All models of their metal housed connector can be ordered with M3 threaded mounting holes facilitating simple panel assembly without the need for securing nuts and washers," said the Surrey-based firm.
The FeedThrough range fits into cut-outs for the industry-standard XLR connector format. The metal versions come in silver or black. The standard plain-hole mounting versions are also available in plastic housings. Bezels are available in seven colours to identify the function of FT connectors when fitted to a control panel.
They are double-sided, with a connector on the back as well as the front instead of wire tails at the back.
Cliff has introduced a vast range of these, including: GJ45, HDMI (HDMI A-A and 50Ω ohm BNC versions), BNC and USB3.0 (single and dual, gender changing, A-A, A-B and B-A), Firewire, USB2 (A-to-B and B-to-A gender change), USB-C, LC fibre, duplex and simplex, and SC fibre), UTP and FTP RJ45s in both Cat6 and Cat5e (shielded and unshielded), Toslink, RCA Phono and blanking plates.
Applications are expected in audio, video, digital, optical, networking and data feeds into professional equipment for broadcast, lighting, audio, instrumentation and industrial applications.
"Our FT connector range continues to grow and find new applications. Our new threaded versions offer system builders simplicity of assembly and time savings," said Cliff MD John Hall.
1U, 19" rack panels pre-assembled with up to 16 FT connectors are now available to order from Cliff offering systems integrators simple system assembly, reduced manufacturing time, component count and cost.
[ad_2]

Source link