[ad_1]

There's going to be no shortage of Motorola phones to choose from this year, as following the launch of the impressive Moto G5 and Moto G5 Plus earlier in 2017 the company now looks to be coming back with improved versions, known as the Moto G5S and Moto G5S Plus.
These new phones are set to offer more than just a slight specs bump, with more high-end designs and in the case of the G5S Plus even a dual-lens camera likely to be included.
We've collected everything there is to know about the two phones so far, so read on below for all the details on the specs, features and likely price and release date.
Cut to the chase
What is it? The next budget phones from Motorola
When is it out? Maybe as soon as July 25
What will it cost? Probably over £170 (around $210/AU$275)
Moto G5S and Moto G5S Plus release date and price
Hottest leaks:
We could see the Moto G5S and Moto G5S Plus very soon, as Motorola is holding an event on July 25.
So far the two phones haven't been confirmed for it. We're fairly certain based on a teaser that we'll see the high-end Moto Z2 Force, but there's every chance that Motorola will use the event to launch other handsets too, so the G5S range could make an appearance.
Then again, the Moto G5 and Moto G5 Plus only landed a few months ago, so Motorola might want to wait a little longer before launching improved versions.
Whenever the two phones launch it's likely that they will cost slightly more than the £170 (around $210/AU$275) Moto G5 and £249/$229 (around AU$290) Moto G5 Plus, but probably not too much more, as Motorola is sure to want to keep them far more affordable than the upcoming Moto X4 and Moto Z2.
TechRadar's take: July 25 is our best guess for a launch date right now, but with no evidence that the two phones will be shown at Motorola's event we wouldn't be surprised if we have to wait longer.
Moto G5S and Moto G5S Plus screen
Hottest leaks:
A 5.2-inch Moto G5S
A 5.5-inch Moto G5S Plus
1080 x 1920 resolutions
It looks very likely that the Moto G5S will have a 5.2-inch 1080p screen, while the Moto G5S Plus will have a 5.5-inch 1080p display.
That was all be confirmed by a leaked presentation slide that looked very convincing, and has since been echoed by reliable tipster Evan Blass.
It's not the most exciting aspect of these two phones as the Moto G5 and Moto G5 Plus both already have 1080p displays, but the new phones have both seemingly had a size boost, as their predecessors are 5.0 and 5.2 inches respectively.
TechRadar's take: All the rumors are pointing to 5.2-inch and 5.5-inch 1080p displays, and that's a believable size and resolution.
Moto G5S and Moto G5S Plus design
Hottest leaks:
Full metal body
Tiny antenna bands
A similar overall look to the G5
A leaked presentation slide told us that the Moto G5S would have a full metal body, and subsequent leaks have backed that up.
You can see in the gallery of leaked images below that it does indeed look all-metal (as does the Moto G5S Plus, which is the phone pictured with a dual-lens camera).
That's a change from the Moto G5 range, as while they have metal backs their sides are plastic. The G5S and G5S Plus also look to have much smaller antenna bands than their predecessors, making for a far more polished, expensive-looking design overall.
Image 1 of 5
Image 2 of 5
Image 3 of 5
Image 4 of 5
Image 5 of 5
Elsewhere, they look similar based on these images, with a circular camera lens on the back, a Motorola dimple below it and a home button (likely housing a fingerprint scanner) below the screen.
You can also make out what appears to be a 3.5mm headphone port, and on one side there are power and volume buttons, while the other side is button-free. A more recent image (below) leaked by @HeyAndri matches up with these, showing the same design and details.
We've also heard that the Moto G5S will come in grey, gold and blue, while the Moto G5S Plus will apparently be available in gold, grey, silver (with white front) and gold (with white front).
TechRadar's take: The leaked images look convincing, showing a similar but far more polished design to that of the G5 and G5 Plus.
Moto G5S and Moto G5S Plus camera and battery
Hottest leaks:
Dual-lens 13MP cameras on the Moto G5S Plus
A single-lens camera for the Moto G5S
A 3,072mAh battery for the G5S Plus
While the standard Moto G5S is expected to have just a single-lens camera, the Moto G5S Plus looks to have a dual-lens one.
There's plenty of evidence for that, from the leaked images above, to the mention of one in a leaked presentation slide, and a couple of other leaks which go into more detail, claiming it will have two 12.9MP or 13MP snappers.
One is said to be a color lens with an f/1.7 aperture, while the other is apparently monochrome and has a smaller f/2.0 lens opening.
That black and white and color combination gives it a similar setup to the Huawei P10, and will likely allow it to use both sensors at once, combining the resulting images for increased detail and contrast.
Images also suggest that the G5S Plus will have a dual-LED flash on the back, along with a single-LED flash on the front (to help out a selfie camera that's rumored to be 8MP).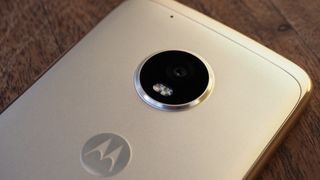 We know far less about the cameras on the standard Moto G5S, but it's likely that it too will have an 8MP front-facing camera, along possibly with the same color lens as the G5S Plus has, just without the monochrome one.
As for the battery, it's rumored that the Moto G5S Plus will have a 3,072mAh one (up slightly from the 3,000mAh unit in the G5 Plus). However, there's no news on the size of the battery in the standard Moto G5S.
TechRadar's take: There's only one battery rumor so far so we wouldn't read too much into it (though it's a believable size), but everything suggests that the Moto G5S Plus will have a dual-lens camera, while the G5S will have a single-lens one, so we fully expect that to be true.
Moto G5S and Moto G5S Plus internal specs and OS
Hottest leaks:
A Snapdragon 626 chipset
4GB of RAM
64GB of storage
The latest leak suggests the Moto G5S Plus has a mid-range Snapdragon 626 chipset, 4GB of RAM and 64GB of storage, and that it will run Android 7.1.1.
That's ever so slightly different to a previous rumor which pointed to a 2.0GHz octa-core Snapdragon 625 chipset (the same as the Moto G5 Plus has), along with 4GB of RAM and 64GB of storage.
An even earlier source also claimed it would have an octa-core chipset, but didn't name which, and that it would run Android Nougat.
There's no word on the internal specs of the standard Moto G5S, but they're likely to be slightly lower, though it's sure to run the same version of Android.
TechRadar's take: Although the leaks don't agree on everything, 4GB of RAM and 64GB of storage is looking likely for the G5S Plus. Of the two rumored chipsets we'd guess the newer Snapdragon 626 is more likely, to help differentiate it from the G5 Plus. Both phones are very likely to run Android Nougat.
Want something even cheaper? Check out the Moto E4
[ad_2]

Source link