[ad_1]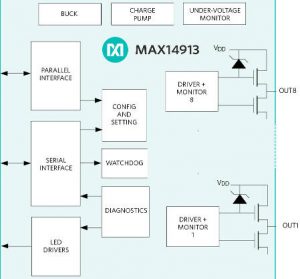 MAX14913 includes eight of the switches, which can operate loads at up to 24V (36Vmax) and 500mA.
"Designers of industrial controllers can safely drive and demagnetise any inductive load for Industry 4.0 applications," claimed the firm at Electronica this week. "Compared to its predecessor, MAX14913 achieves 15x space savings by eliminating 16 diodes."
For added robustness, it provides open-circuit and short-circuit diagnostics. Each output is also protected against 1kV of surge.
Working at up to 200kHz, the switches can be also be configured as push-pull drivers.
Applications are expected in programmable logic controllers (PLCs), motion control units and drives.
[ad_2]

Source link