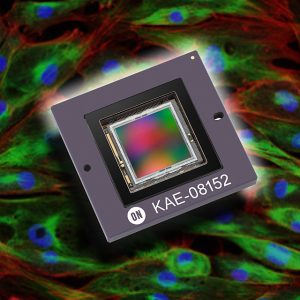 The  KAE-08152 has the same 8.8 megapixel resolution and 4/3 optical format as the 08151 but incorporates an enhanced pixel design that doubles Quantum Efficiency for near-infrared (NIR) wavelengths such as 850 nm – an enhancement which can be critical in applications such as surveillance, microscopy, and ophthalmology.
The sensor is drop-in compatible with the existing device.
"Interline Transfer EMCCD technology enables image capture with video frame rates even under extreme low-light conditions – down to moonless starlight," says ON's  Herb Erhardt, "with new options that provide enhanced NIR sensitivity and integrated cooling, this expanded portfolio allows customers to identify the best low-light imaging solution for their application."
All devices in ON Semiconductor's IT-EMCCD portfolio are now available with packages that incorporate an integrated thermoelectric cooler. This option addresses the increased effort and potentially higher costs that camera manufacturers can incur when developing a cooled camera design in order to fully maximise the performance of these devices.
IT-EMCCD devices combine two established imaging technologies with a unique output structure to enable a new class of low-noise, high-dynamic range imaging. Interline Transfer CCD provides excellent image quality and uniformity with a highly efficient electronic shutter, while EMCCD excels under low-light conditions.
Combining these technologies allows the low-noise architecture of EMCCD to be extended to multi-megapixel resolutions, and an innovative output design allows both standard CCD (normal-gain) and EMCCD (high-gain) outputs to be utilised for a single image capture – extending intrascene dynamic range and scene detection from sunlight to starlight in a single image.
Engineering grade versions of the KAE-08152 are now available, with production planned for 2Q18.  KAE‑04471 and KAE-08151 devices with integrated TEC coolers will be in production in 2Q18, while cooled versions of the KAE-02150 and KAE-02152 are available today.
All IT‑EMCCD devices ship in ceramic micro-PGA packages, and are available in both Monochrome and Bayer Colour configurations.  The KAE‑02152 is also available with the Sparse CFA colour pattern.
Evaluation kits are available that allow the full performance of this technology to be examined and reviewed under real-world conditions