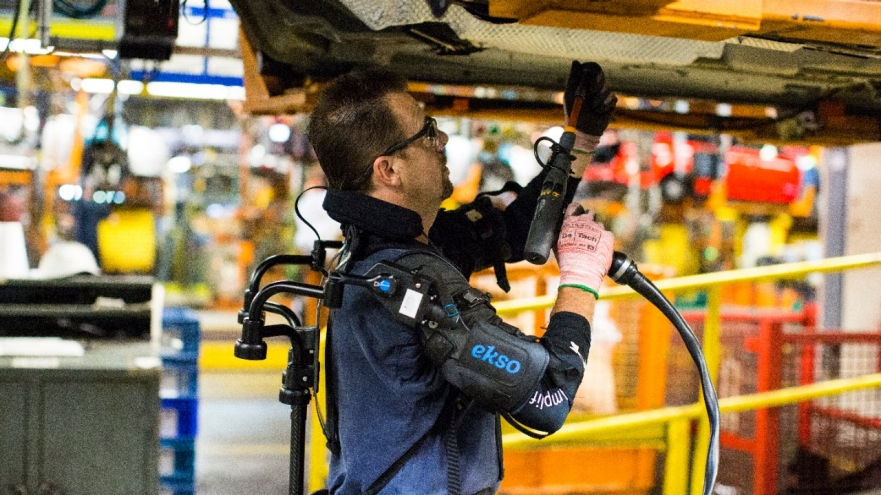 Ford and a compnay called Ekso Bionics have partnered to explore how the exoskeleton that elevates and supports a worker's arms can best help and reduce chances of injury.
The moving assembly line was invented by Ford Motor Company, of course, and the potential benefits for robotics to assist – rather than replace – workers is obvious.
Ekso Bionics writes:
The physical demands of repetitive overhead work takes its toll on workers. Some workers on the assembly line lift their arms an average of 4,600 times per day, or about 1 million times per year, increasing the possibility of fatigue or injury.

By reducing the strain on a worker's body, he/she not only feels better at the end of every day, it also reduces the likelihood that the worker will sustain injury. Jobs get completed to a higher level of quality, in a shorter amount of time, increasing both productivity and morale.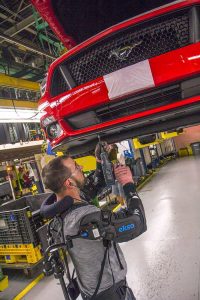 Ford initially partnered with EksoWorks to pilot the EksoVest in two U.S. plants, the company says. The Ford Mustang assembly line is pictured right.
Now, following the tests, use of the EksoVest will apparently be expanded to plants in other regions, including Europe and South America.
"My job entails working over my head, so when I get home my back, neck and shoulders usually hurt," said Paul Collins, an assembly line worker at Ford's Michigan Assembly Plant.

"Since I started using the vest, I'm not as sore, and I have more energy to play with my grandsons when I get home."
Russ Angold, co-founder and chief technology officer of Ekso Bionics, said:
"Collaboratively working with Ford enabled us to test and refine early prototypes of the EksoVest based on insights directly from their production line workers."

"The end result is a wearable tool that reduces the strain on a worker's body, reducing the likelihood of injury, and helping them feel better at the end of the day – increasing both productivity and morale."
You can read more on the Ford and Ekso Bionics partnership at eksobionics.com/eksoworks/ford/
Thanks to Sue P. for highlighting this one. You can see it in action yourself below.
[Via New Atlas]