[ad_1]

Processing comes from a Broadcom BCM2837, running with 1Gbyte of LPDDR2 RAM and optional 4Gbyte eMMC flash storage.
There are two versions:
Raspberry Pi 3 Compute Module (CM3) with on-board flash
Raspberry Pi 3 Compute Module Lite (CM3L) without on-board flash
Pin-out is identical to the original Compute Module (CM1), although some originally un-used pins have been allocated to the external flash interface which allows the application PCB into which the CM3L clips to carry an eMMC device or SD card socket.
Power consumption is 4W max, for which thermal guidance is available.
Physically, the only difference between the original CM and CM3 or CM3L is that the new boards are 1mm deeper.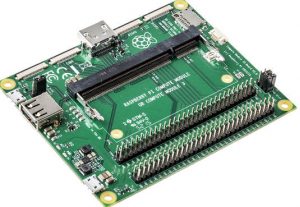 To get people up-and-running, there is a develeopment kit that includes the open-source 'Compute Module IO Board' which brings out all of the IO connectivity of CM1, CM3 or CM3L to pin headers and flexi-connectors.
NEC is one organisation that has adopted the Raspberry Pi Compute Module, which clips inside some of its large format high-intensity displays aimed at public spaces – schools, offices, shops and railway stations, for example.
[ad_2]

Source link