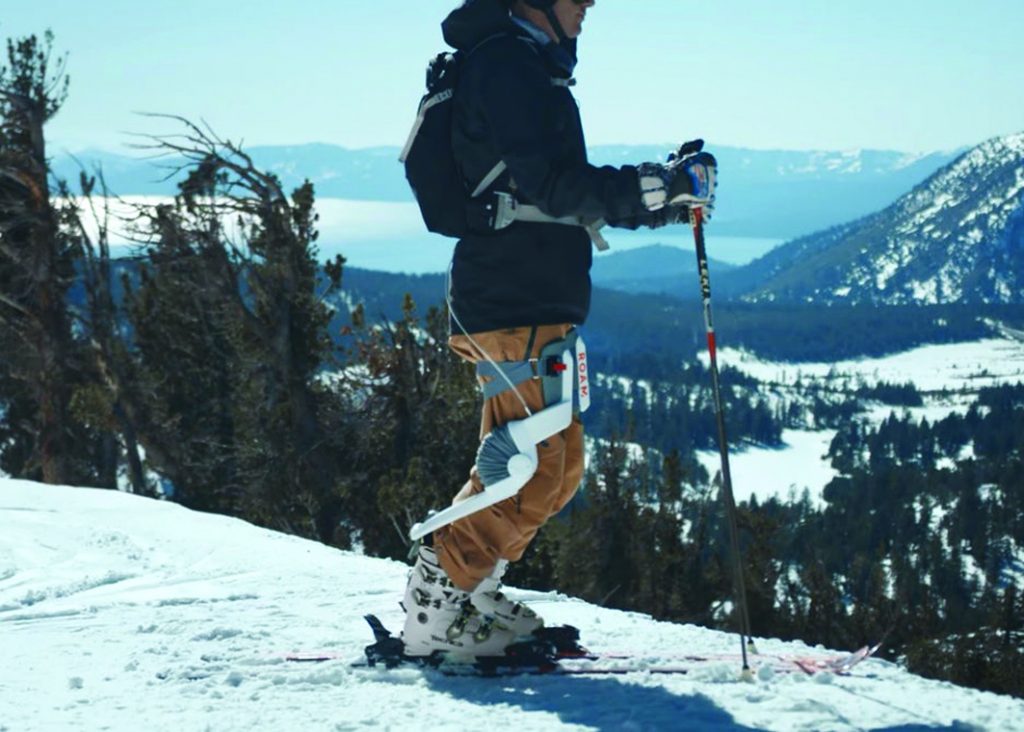 The device has two main parts: a backpack and a unit that goes on your leg, connected to your ski boot and strapped to your thigh. Turn the system on and you're ready to go, they promise. At speed, down a hill, on an icy surface…
The device senses what you are doing as you go down the snow now and responds accordingly, say the makers.
"It's essentially like intelligent shock absorbers for your leg. Its going to see that you are turning or going straight down the hill and then attempt to mimic what your quads are already doing and take load off your leg."

"Pick the lines you want to take, and you can hit turns harder. Advice is just there. We're building a device to help you push your barriers."
You can watch a video below:
The Roam Ski can be programmed via an Android app to function autonomously, to an 'expert' programme or to your own custom plan. The app also stores your performance details (including 'knee data' – who knew there was such a thing).
The company writes:
Experience the first of its kind robotic powered exoskeleton to superpower your knees during alpine skiing and snowboarding. The sensors and the software on the exoskeleton senses user intent and automatically adjusts torque at the knee via air actuators effectively mimicking the quadricep muscles. The device is fully programmable and automated but with manual overrides thus always keeping user in control.

Extend your ski day, access longer challenging terrain, make stronger turns, or simply enjoy the sport without the pain. All the while keeping your knees safer.
The plan is for units to be purchased (there's a waiting list) or rented in Colorado, USA, from December 2018.
Thanks to Sue P. for highlighting this one.
[Via New Atlas]
See also: Picture of the Day: EksoVest exoskeleton aids auto workers