[ad_1]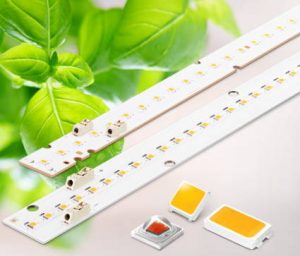 LH351B Red is a high-power package providing 660nm red with a photosynthetic photon flux (PPF) of 2.15μmole/s at 350mA. "The 660nm wavelength helps to accelerate the growing of plants including their photosynthesis, as well as enrich the blooming of flowers," said the firm.
For heat extraction, thermal resistance is 2.0K/W, and the package has the same electrode pad design as its LH351 series counterparts.
Beyond the LH351B Red, are horticulture specifications for white leds in mid-power packages LM301B (0.52μmol/s at 65mA) and LM561C (0.49μmol/s 65mA); and two linear modules – Q-series (24μmol/s 0.45A, 21.9V) and H inFlux (114μmol/s 1.38A, 46.9V).
"In addition, the white LED packages and modules feature extremely high light efficacy", said the firm, quoting 2.92μmol/J, 2.72μmol/J, 2.43μmol/J and 1.76μmol/J respectively at the same currents and voltages. LH351B Red delivers 3.13μmol/J at 350mA.
"These high efficacy levels minimise the impact of lighting on ambient temperatures, allowing growers to better control temperatures in almost any greenhouse environment," said the firm.
[ad_2]

Source link