[ad_1]

Update: Full details of the Samsung Galaxy S8 Plus have been leaked by an analyst, while a snap of the battery further suggests it will be 3,500mAh.
The Samsung Galaxy S7 Edge is for our money the best phone you can buy right now, coupling the sheer power of the Samsung Galaxy S7 with a bigger battery, a more eye-catching design and genuinely useful edge screen features.
But there's no such thing as a perfect phone, so there are still improvements  we'd like to see and will hopefully get with the Samsung Galaxy S8 Edge – or, as it may be called, the Samsung Galaxy S8 Plus.
With that in mind we've created a wish list for Samsung's next curvy flagship, along with rumors and predictions of what it might include and when we might see it.
Cut to the chase
What is it? Samsung's next curvy flagship
When is it out? Being announced on March 29
What will it cost? More than almost any other phone
Samsung Galaxy S8 Plus release date
Hottest leaks:
Confirmed for a March 29 announcement
Likely hitting stores in April
May be able to pre-order from April 10
Samsung has sent out invites for its next unpacked event in New York on March 29 and we're bound to see the Galaxy S8 and Galaxy S8 Plus there.
That's no surprise, as earlier rumors suggested exactly that, with the phone apparently set to hit shelves on April 21, with pre-orders opening on April 10.
Prior to that there had also been talk on more than one occasion that the phone had been delayed until April, and we've also heard rumors of an April 18 release date – following that announcement on March 29.
Although the phone isn't official yet, UK network EE has already confirmed it will be stocking it. We expect to see most other carriers in the UK, US and Australia following suit, and indeed it's been certified by the Federal Communications Commission in the US, confirming in the process that it will at least be compatible with all US carriers.
TechRadar's take: A March 29 announcement is now confirmed, while an April release seems likely.
Samsung Galaxy S8 Plus news and rumors
You can look to the Samsung Galaxy S8 for an idea of what we're likely to see with the S8 Plus, since other than the obligatory curves and possibly some differences in screen and battery sizes the two phones are likely to be more or less identical.
A number of rumors are emerging for both phones though, all of which you'll find below, split into sections.
Samsung Galaxy S8 Plus screen
Hottest leaks:
A 6.1 or 6.2-inch curved screen
A QHD or 4K resolution
A built-in fingerprint scanner
Samsung's now officially teased the Galaxy S8 and Galaxy S8 Plus in a brief video, suggesting that it will redefine what makes a phone.
Little is shown, but we do see the outline of an edge-to-edge screen, with tiny bezels above and below, no home button and what appears to be a curved display. You can see this in the image below.
And that lines up with what we'd been hearing and seeing, including this leaked press render below, which is one of our clearest looks yet at the phone, though it's not clear whether this shows the standard S8 or the S8 Plus.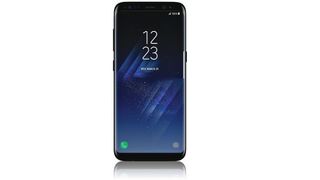 The latest leaks suggest that the Samsung Galaxy S8 Plus will have a big 6.1 or 6.2-inch screen, which is a  we've heard more than once, and that the aspect ratio could be 18.5:9, rather than the more standard 16:9.
We can now better understand the differences between the two sizes thanks to a leak of out China that puts the Galaxy S8 and Galaxy S8 Plus in a side-by-side photo.
Of those two screen sizes 6.2 inches is looking the most likely, as an unnamed Samsung official has that's what size it will be. You can see how big it might look compared to the standard Galaxy S8 in the below.
We've also heard leaked dimensions of 159 x 74 x 8mm, which would make the S8 Plus larger than the 150.9 x 72.6 x 7.7mm S7 Edge, but not by as much as you might expect with a screen of that size.
And it's likely to be an edge-to-edge screen, with no home button below, as you can see in the leaked image below.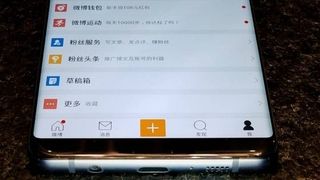 You can see a similar design in the leaked image below, as well as getting a look at the iris scanner and the always-on screen with the time displayed. You'll also note there's no Samsung logo on the front, presumably to keep the bezels small.
Even if the home button is removed there are still likely to be buttons on the front, just they'll probably be on-screen ones, like you can see in the images above and below, the latter of which supposedly shows either the S8 or S8 Plus and was found in a system dump for the Samsung Galaxy Tab S3.
Removing the home button and placing the fingerprint scanner on the back would allow Samsung to keep the dimensions relatively manageable despite the larger screen, but growing the display does still seem an odd choice since it could impinge on the Note range.
So it's always possible that the screen will stay at 5.5 inches, just like the S7 Edge. Samsung has shown off a 5.5-inch 4K display and if it wasn't for the lack of curves this would seem an obvious fit for the Galaxy S8 Plus. 5.5 inches is how big the S7 Edge is and a 4K resolution is the next logical step after the QHD screens we're seeing now.
The display has a pixel density of 806 pixels per inch, so it's incredibly sharp and while it hasn't specifically been linked to either the S8 or the S8 Plus, Chinese sources speaking to WCCF Tech reckon a 4K display of some kind will hit Samsung's next flagship.
That might sound like overkill, but it could be just what the next generation of smartphones need to really make the most of VR.
More recently we've heard rumors of a 5.5-inch curved panel, possibly with a 4K display, so that jump in resolution could well be happening, though a lot of rumors still point to a QHD panel.
Another possible change is having the fingerprint scanner built into the screen, as has been rumored on Weibo.
Similarly, we've now heard that Samsung is planning a 5.5-inch curved display with a virtual home button built in.
This rumor has gained ground, with a Samsung employee claiming that the company will launch a phone with a 90% screen-to-body ratio in 2017 – a feat which would basically require the removal of the home button, but it's more likely Samsung will position the fingerprint scanner on the back than placing it under the screen.
Other rumors suggest that all the buttons will be going soft touch, and that they'll have customizable functions, with the same source adding that the S8 could have a feature similar to the pressure-sensitive 3D Touch tech used by Apple.
TechRadar's take: We're sure to get a curved screen of at least 5.5 inches, and a jump to 4K resolution, while far from guaranteed, would help with VR. Don't count on seeing the fingerprint scanner built in, but a move to the back is likely, as is a larger, possibly 6.2-inch screen.
Samsung Galaxy S8 Plus design
Hottest leaks:
A similar but further improved look
A "slick" design
The best look at the S8 Plus we've had comes from the leaked images below. Technically these are of the standard S8, but other than the size we're not expecting many visible differences.
Image 1 of 5
Image 2 of 5
Image 3 of 5
Image 4 of 5
Image 5 of 5
You can't see the back, but otherwise these shots leave little to the imagination, with a button-free front, on-screen keys, a power and volume button on one edge, a headphone port and USB-C port on the bottom, and another button likely used to launch Samsung's upcoming AI assistant, on the other edge.
And to complete the picture, the leaked video below shows the back of the phone.
The look isn't far off what we've seen from the S7 Edge, other than the lack of home key, and matches a claim from Samsung's vice chairman that the standard S8 will have a "slick" design.
If you're wondering just how big the Samsung Galaxy S8 Plus will be, we can help you there too, thanks to leaked diagrams showing it alongside other Apple and Samsung handsets.
Image 1 of 4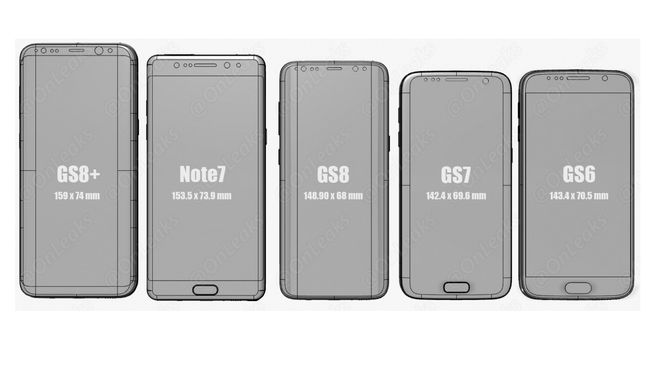 Image 2 of 4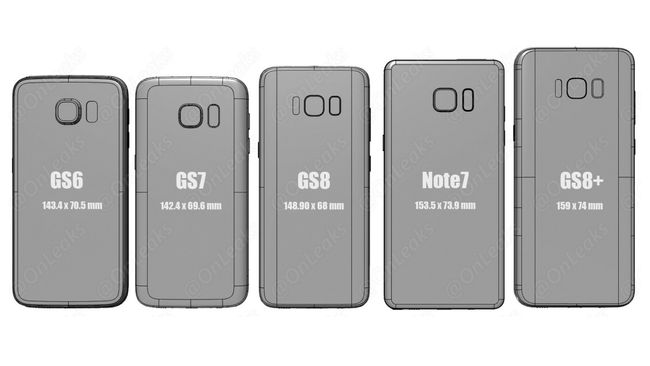 Image 3 of 4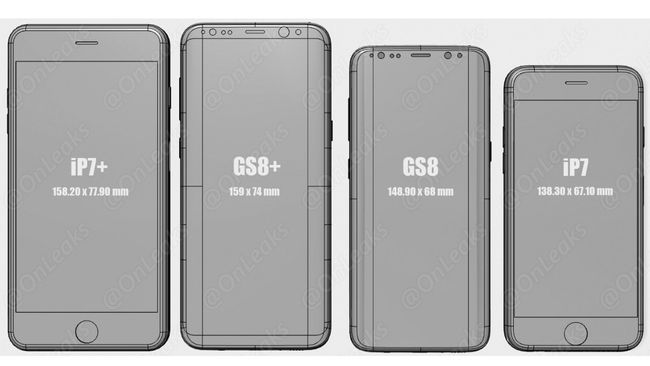 Image 4 of 4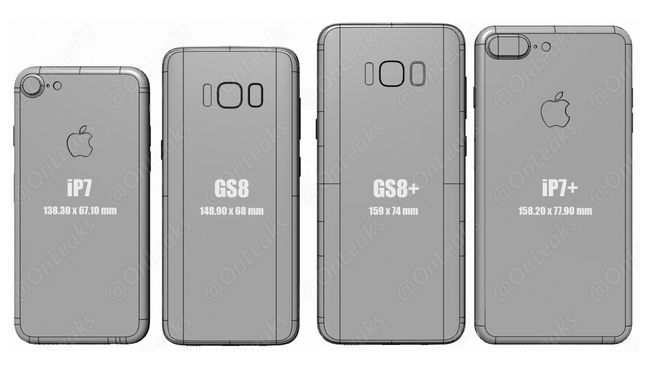 As you can see, it's a similar size overall to the iPhone 7 Plus – with a longer but thinner body, despite it likely having a much larger screen.
We've also seen some leaked renders, based on factory CADs and showing the phone from all angles.
You can see that the design is similar to what's come before, with a metal frame and a glass back. There are volume and power buttons on the left edge and another button – likely for launching the Bixby AI assistant – on the right edge.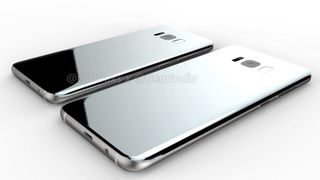 The bottom meanwhile has a 3.5mm headphone jack, a speaker and a USB Type-C port.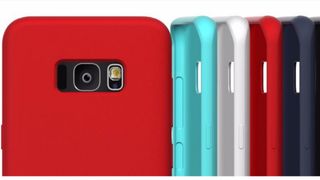 You can also see a similar design in this leaked case image above. This is likely for the standard S8, but we're not expecting any major differences in the appearance.
We're also starting to get an idea of what colors to expect the Galaxy S8 Plus in. Leaks so far suggest we could get jet black, purple, blue coral, pink gold, gold, white, black and silver shades.
TechRadar's take: While these images could be wrong, there aren't any obvious red flags and the design is believable.
Samsung Galaxy S8 Plus camera and battery
Hottest leaks:
A dual-lens camera
Could be up to 30MP
A 3,500mAh battery
Several different camera rumors are doing the rounds at the moment. According to Chinese sources speaking to WCCF Tech the Samsung Galaxy S8 Plus might have a dual-lens camera, though they don't specify whether that second lens will be for wide-angle shots like on the LG G5, monochrome like on the Huawei P9 or something else entirely.
This rumor has popped up several times since, though more recent rumors suggest just a 12MP single lens camera, with optical image stabilization and an 8MP snapper around the front. With more rumors saying the same, this is now looking like the ost likely option.
Another currently rumored possibility is that the S8 Plus will have a camera of between 18 and 24MP, with a wide f/1.4 aperture to let more light in. Samsung is supposedly building this sensor already.
While another source claims the rear camera will be 30MP, and the front one will be 9MP, so there are lots of possibilities.
Whatever the case, Samsung is likely to improve the camera over the already impressive snapper on the S7 Edge, and in fact the company's vice chairman has specifically said to expect improvements.
We've also heard that the front-facing camera might get an autofocus, which seems a bit unnecessary, but could help it stand out.
The latest battery rumor, which supposedly comes from a Samsung official, states that the S8 Plus will have a 3,500mAh juice pack. There's now even more evidence of that thanks to an image, supposedly showing the battery pack, spotted by SamMobile.
That would be smaller than the 3,600mAh one in the S7 Edge, despite this probably being a bigger phone, but after the Note 7's battery problems it's believable that Samsung would opt for a smaller size.
It's not confirmed though, and an earlier battery rumor points to a 3,750mAh juice pack.
TechRadar's take: A 3,500mAh battery is likely, and we doubt Samsung will change the camera's megapixel count too drastically, so expect a snapper in the region of 12MP.
Samsung Galaxy S8 Plus OS and power
Hottest leaks:
A top-end Snapdragon or Exynos processor
6GB of RAM
Samsung could go one of two ways with the Galaxy S8 Plus. It might use one of its own Eynos chips (rumored to be the 3GHz Exynos 8895), or it might use whatever the latest Snapdragon processor is (probably the 835), or, more likely, it might use both, depending on which region you're in.
Indeed, exactly that has been rumored, with analyst Ming-Chi Kuo claiming that the US, Japan and China will get the 835, while Europe and elsewhere will get the Exynos 8895.
Whatever the case it's sure to have a top tier processor, possibly coupled with 6GB of RAM, especially now the OnePlus 3 has packed that much in. But Samsung might go even further, as the company has created an 8GB mobile RAM chip, though with 6GB still a rarity we doubt it would jump that high. In fact, it's looking increasingly likely that we'll just get 4GB.
The S8 Plus could also offer a high-performance "beast mode", as Samsung has applied to trademark something with exactly that name. Such a mode could be a boon to VR – but probably at the expense of battery life.
TechRadar's take: Expect to get the Snapdragon 835 in the US and the Exynos 8895 elsewhere, coupled with probably 4GB of RAM.
Samsung Galaxy S8 Plus other features
Hottest leaks:
An AI assistant
Stereo speakers
An iris scanner
A desktop mode
A recent rumor suggests the Galaxy S8 Plus won't come with a 3.5mm headphone jack. Instead you'll have to use Bluetooth headsets or a USB-C adapter for wired headsets, though leaked renders (above) show the headphone port intact, so don't count on losing it.
But Samsung could also be adding some things, like the ability to plug the phone into a screen and use it with a mouse and keyboard, or optionally buy an S Pen stylus for it – both of which could boost productivity.
That desktop mode rumor is gaining ground, with another leak pointing to a DeX dock, which you would apparently be able to plug the Galaxy S8 Plus into and then from there plug it into a monitor using an HDMI cable.
An iris scanner is also looking like a likely inclusion at this point. Samsung has built one into the ill-fated Samsung Galaxy Note 7, and the feature has specifically been rumored for the Galaxy S8 too.
There's also talk of a mini projector and an AI assistant known as Viv. This is made by some of the people behind Siri, and Samsung has already purchased the company. Plus, Samsung's vice chairman has claimed the S8 will feature enhanced AI, so Viv's inclusion is all but guaranteed.
More recently, Samsung has applied to trademark the names Bixby and Kestra, leading to speculation that these will be the final names for Viv and that it will have both male and female voices.
We could also see the Galaxy S8 Plus get a 'Smart Glow' feature, which Samsung introduced with the Samsung Galaxy J2. This is a ring of LEDs that circles the rear camera, lighting up to alert you of notifications when the phone is face down.
But it goes further, with customizable colors for different notifications and even the ability to have it light up when it detects your face – so you can take selfies with the rear snapper.
We may also see – or hear – dual stereo speakers, according to one rumor, which adds that they'll probably use Harman technology. That's a company that Samsung recently bought, so it's very possible.
The S8 Plus is also likely to include features from previous Samsung phones, like a USB-C port, a waterproof body and a fingerprint scanner. Plus, it could have up to 256GB of built-in storage, which would be a huge jump on the S7 Plus 64GB max capacity.
TechRadar's take: We wouldn't count on seeing Smart Glow, as it hasn't been attached to the S8 Plus, while the talk of a mini projector seems a bit unlikely, but the AI assistant has been confirmed, while stereo speakers, a desktop mode and an iris scanner are all likely.
Samsung Galaxy S8 Plus price
Hottest leaks:
More expensive than the Galaxy S7 Edge
Current pricing rumors suggest the Samsung Galaxy S8 Plus will be significantly more expensive than its predecessor – the Samsung Galaxy S7 Edge – was at launch.
Samsung Galaxy S8 and S8+ will be out in Black, Silver and Violet (!) colors, retail listings show. S8 priced at 799, S8+ at 899 Euro.March 7, 2017
According to tipster Roland Quandt it's launching in Europe for €899, which is roughly $950/£780/AU$1,255, while the S7 Edge launched at $769/£640/AU$1,249.
TechRadar's take: A 1:1 conversion is unlikely, so it may not be exactly that price, but it's very believable that the S8 Plus would cost more than the S7 Edge.
[ad_2]

Source link