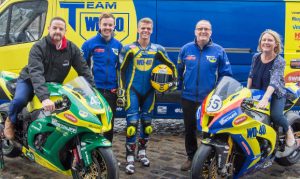 The team is Team WD40 of GR Motosport, and Datatool logos will be seen on motorcycles ridden by Mason Law, Alastair Seeley and Liam Delves throughout the 2018 Championship Series.
"Our sponsorship of GR Motorsport is a great opportunity for Scorpion to increase brand awareness of its motorcycle security brand Datatool whilst demonstrating our commitment to the motorcycling community," said Scorpion head of marketing Carl James. "We believe our partnership with Team WD40 will resonate well with our customer base."
Scorpion manufactures own-brand and OEM products in the UK, supplying vehicle security and telematics systems. Its in-house team designs hardware and software to TS16949 standards (accredited in 2008). Volume SMD manufacture is in Chorley, in a facility with automatic optical inspection and in circuit testing.
"Scorpion products are supplied worldwide to automobile manufacturers such as DAF Trucks, Leyland Trucks, Iveco, Aston Martin, Toyota, Subaru, Isuzu and Triumph Motorcycles," said the firm.
Photo, from left to right: Carl James, head of marketing and sales at Scorpion; Danny Wright, crew chief of Team WD40 at GR Motosport; Mason Law, Team WD40 rider; Brent Gladwin, MD of GR Motosport; Claudia Partridge, marketing manager of Swinton Group.